After defeating three competitors at the stunning finale in HCM City, broadcast live Sunday night, 16-year-old Vu Thao My won the second season of The Voice Vietnam.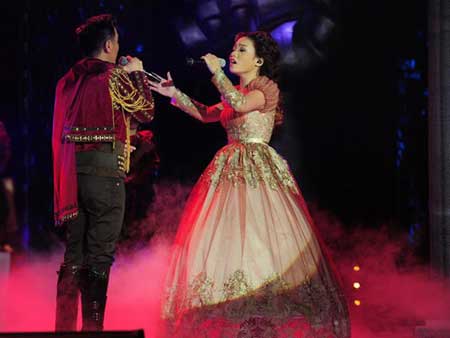 Vu Thao My (right) performs a duet with her coach – in-vogue singer Dam Vinh Hung – at the finale of The Voice Vietnam 2013 on Saturday. – Photo vnexpress.net
Her coach – in-vogue singer Dam Vinh Hung – jumped onto the stage to celebrate the victory with his trainee, while her mother, standing next to the stage, burst into tears.
My was the artist who opened the finale with the ballad Boi Roi (Confused) by Phuong Uyen. She also sang again, with the folk-tune Giot Suong Bay Len (Flying-Up Drew) by Nguyen Vinh Tien, before performing a perfect duet with her coach, Hung, singing the song A Time for Us.
Alongside her ambition to win the contest, the young girl had received great support from her coach as well as from her aunt – supermodel and fashion designer Vu Thu Phuong, who supplied her performing costumes.
At the "blind audition", the Nam Dinh northern province native won over judges with her cultivated and emotional voice when she performed Lady Gaga's song You and I.
All four judges, including composer Quoc Trung, diva My Linh and Hong Nhung, as well as singer Dam Vinh Hung, showed their interest in her and had to compete with each other to draw the young girl to their team. Finally, My decided to choose singer Hung as her coach.
In the "battle round," My had a duet with teammate Minh Tri to present the song Det Tam Gai (Weaving the hemp cloth) – a 2002 hit by diva Tran Thu Ha. Thanks to her sophisticated singing skill, when presenting a folk-tune song which is a challenge for many singers, her coach Hung decided to eliminate her teammate Tri.
However, in the following "knockout round," My did not have a breakthrough when she sang the I Have Nothing.
In the final live performance phase of the competition, where public voting narrows the final group of artists, My received incredible support from the huge number of her coach's fans.
Alongside the performances of the other three finalists, including Ha My, Hoang Ton and Cat Tuong, The Voice Vietnam finale last night also featured repertoires by The Voice American 2012 first runner up Terry McDermott.
Source: VNS