The country is estimated to have a trade surplus for the second consecutive year in 2013, according to the General Statistics Office.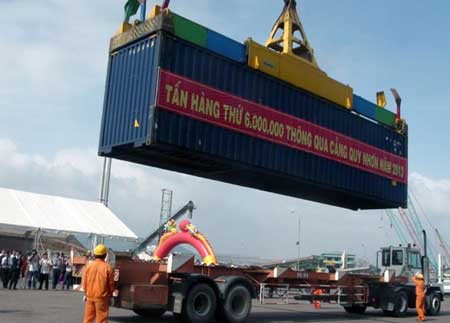 A container being loaded for shipping at Quy Nhon Port. Viet Nam was expected to run a trade surplus for the second consecutive year in 2013.
The country had a trade surplus last year as well, which was its first since 1993. During 2006-2011, the country suffered high trade deficits of up to US$12 billion each year.
The office said the country had a trade surplus of $863 million this year after exports were estimated at $132.2 billion and imports, at $131.3 billion. Compared with last year, both export and import values have climbed 15.4 per cent.
Adjusted for inflation, the country's exports and imports increased 18.2 and 18.3 per cent, respectively.
The office reported that Vietnamese firms posted a trade deficit of $13.1 billion, while foreign invested firms had a trade surplus of nearly $14 billion.
Foreign invested firms contributed $88.4 billion to the country's exports by value, up 22.4 per cent from the previous year. Excluding crude oil, the export turnover of companies surged 26.8 per cent to $81.2 billion. Vietnamese firms accounted for $43.8 billion, up 3.5 per cent.
Chairman of the National Assembly's Economic Committee Nguyen Van Giau said that exports had surged over the past two years. He also noted that foreign invested firms had posted annual trade surpluses since 2008.
While acknowledging the contribution of foreign invested firms to the country's exports, experts pointed out that these firms, which are mainly processing and manufacturing firms, also had significant imports. Their real contribution to the economy, therefore, remains relatively insignificant.
Director of the Viet Nam Institute of Economics Tran Dinh Thien attributed the situation to the lack of development of supporting industries, which has forced companies to depend on imports for raw materials and equipment.
Experts noted that going forward, the country's export turnover would continue to depend on foreign invested firms if suitable long-term strategies are not put in place for the development of supporting industries.
Source: VNS