The fourth session of the Viet Nam-China Land Border Joint Committee ended in Ha Noi yesterday (Dec 5) after reaching agreement on opening and upgrading border gates.
During the two-day session, the two countries spoke highly of their efficient co-ordination over the year, agreeing to uphold the partnership in addressing rising problems.
Officials said they were pleased to witness the outcomes of co-operation between the two countries' agencies and border localities in border management and defence, in accordance with the three documents agreed upon, including the Protocol on Border Demarcation and Marker Placement, the Agreement on Border Management Regulations and the Agreement on Border Gates and Border Gate Management Regulations.
The two sides also agreed on building works to stabilise the border and markers, tightening the entry and exit flow to maintain order and co-operating in controlling crime, to create conditions for the land border area to develop.
Further, a plan for 2014's partnership has been reached, focusing on negotiations and signing an agreement between Viet Nam and China on exploiting and protecting tourism resources at Ban Gioc waterfalls, as well as another agreement on free navigation at the mouth of the Bac Luan River.
The next session is to be hosted by China in 2014.
Vietnam attends UMNO's 64th General AssemblyA delegation of the Communist Party of Vietnam (CPV) led by Vuong Thua Phong, permanent deputy head of the CPV Central Committee's Commission for External Relations, attended the 64th General Assembly of the United Malays National Organisation (UMNO) that opened in Kuala Lumpur, Malaysia, on December 5.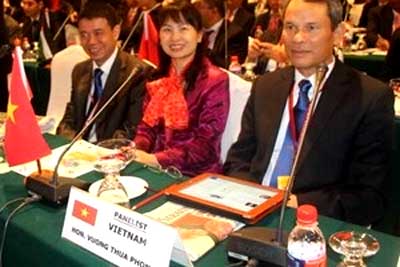 The Vietnamese delegation at the 64th General Assembly of the United Malays National Organisation. (Photo: VNA)
As many as 2,700 delegates representing over 3.5 million UMNO members across Malaysia and 120 others from 32 political parties in 22 countries worldwide attended the event.
The General Assembly took place in the context that the UMNO has taken the lead in the National Front (BN), which triumphed in the general parliamentary election last May.
In his opening remarks, UMNO President Najib Tun Razak, who is also Malaysian Prime Minister, called on the Party to increase its influence on people.
He urged the acceleration of Malaysia's Transformation Programme with new socio-economic measures and policies in order to meet people's aspirations and pushing the country forward.
Earlier, Phong attended and delivered a speech at the UMNO's International Forum themed "Politics of Moderation Accommodates and Balances Competing Principles That Leads to Peace and Stability" on December 2-3.
UMNO General Secretary Tengku Mansor expressed his hope for stronger relations between the two Parties and people, thus contributing to enhancing the multi-faceted cooperation between Vietnam and Malaysia.
Estonia treasures ties with VietnamEstonia treasures its ties with Vietnam, and wants to further the two sides' trade and economic relations, Estonian President Toomas Hendrik Ilves has said.
The President made the point at his recent meeting with Vietnamese Ambassador to Estonia Bui Van Khoa after receiving his credentials.
The Estonian President insists that his country takes the lead among European countries in the field of information technology, and is willing to support Vietnam's IT application in financial management, banking, taxation, and e-government building in particular.
Estonia hopes to see a Hanoi-based honorary consulate approved by Vietnam's Ministry of Foreign Affairs soon.
For his part, Ambassador Khoa relayed Vietnamese Party and State's wishes to bolster the bilateral friendship and multifaceted ties with Estonia, saying the two sides should back each other at regional and international forums.
He paid thanks to the Estonian Government for helping train Vietnamese students, wanting it to continue facilitating their studies, especially in the fields of Estonia's strengths.
President encourages Belarus business ties
The business communities of Viet Nam and Belarus should increase co-operation in investments, especially in joint strategic projects, President Truong Tan Sang has said.
While receiving Vsevolod Yanchevski, advisor of the Belarus President, in Ha Noi yesterday, Sang confirmed that bilateral relations are developing well, though the value of two-way trade remains modest.
Sang suggested that both sides accelerate negotiations on a free trade agreement (FTA) to help their businesses penetrate each other's markets.
Viet Nam and the Customs Union of Russia, Belarus and Kazakhstan are conducting negotiations for an FTA, finishing their third round of talks in Minsk in September 2013.
President Sang revealed many Vietnamese telecom, food processing and garment businesses are planning to invest in Belarus.
For his part, Vsevolod Yanchevski, who is also Head of the Central Ideology Department of the Presidential Administration of Belarus, spoke highly of Viet Nam's experience in maintaining political stability and developing a market economy amidst global complications.
He said the fine relationship between Belarus and Viet Nam would assist in the signing and implementation of co-operation projects in the areas of energy, education and high technology.
He also voiced Belarus's determination to create joint projects, and proposed the Vietnamese President support those projects.
Belarus is ready to train Vietnamese specialists, and wants to co-operate in information technology with Viet Nam, said Vsevolod.
The Belarus official also expressed his belief that the FTA will bring great benefits to both sides.
Togo seeks agriculture cooperation with Vietnam
Togo wants to boost cooperation in agriculture, poverty reduction, and food security with Vietnam, said President Faure Gnassingbe.
At a recent reception for Vietnamese ambassador Hoang Ngoc Ho in capital Lome, President Gnassingbe spoke highly of Vietnam's Renewal achievements. He also extended his deep condolence to the Vietnamese government over the recent passing of revered General Vo Nguyen Giap.
Ambassador Ho briefed his host on Vietnam's development achievements in recent times and stressed the need to strengthen cooperation between Vietnam and African nations in trade and investment, as well as in agricultural production under the tripartite cooperation model.
At another meeting with Foreign Minister Robert Dussey, Ho proposed the Togo government will create favourable conditions for Vietnamese nationals to integrate well into local communities.
Deputy PM welcomes Thai official in Hanoi
Deputy Prime Minister and Foreign Minister Pham Binh Minh received Thailand-Vietnam Friendship Association President Prachuab Chaiyasan on December 5, praising the association's recent activities.
Minh expressed hopes the association will continue its tireless efforts to expand cooperation and people-to-people diplomacy for the greater benefit of the two countries' strategic partnership.
He thanked the association for assisting expatriate Vietnamese residents in Thailand, promoting the bilateral friendship and economic development.
He encouraged the association to work with Vietnamese expatriates and local Thai authorities to preserve late Vietnamese President Ho Chi Minh's space in Thailand.
Chaiyasan passed on his gratitude for the support Vietnam has lent to implementing cooperative agreements between the two nations' friendship associations, consolidating and perpetuating the venerable history of Thailand-Vietnam relations.
VNN/VOV/VNS/VNA