On 15 March, there was the opening ceremony of the first Ninh Binh Enterprise Union Football League 2011.
The tournament is divided into 3 groups, after qualifying 4 teams will move the semi-finals, crossover playing to select 2 teams in the final. Such tournament is expected to be taken place to the end of 21 March.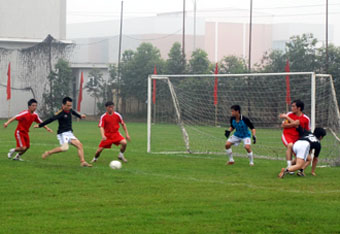 This is a sports and cultural activity in the annual work plan of the business sector organizations, which facilitates learning exchanges for youth members and is useful playground inspiring movements for physical exercise of youth union members in order to better serve the mission of manufacturing and business enriching Ninh Binh homeland. The tournament is aimed at activities celebrating 26 March, the traditional day of Ho Chi Minh Communist Youth Union.