On 23 September 2010, Hoang Phat Vissai Group and its partner PEAKWARD ENTERPRISES duly signed an export package of 1.2 million tons of clinker branded The Vissai to the international market at Ninh Binh. Representatives of local leaders were Mr. Phan Tien Dung – Permanent Vice President of Ninh Binh Provincial People's Committee along with leaders from departments and agencies in the province and representatives of media organizations and press.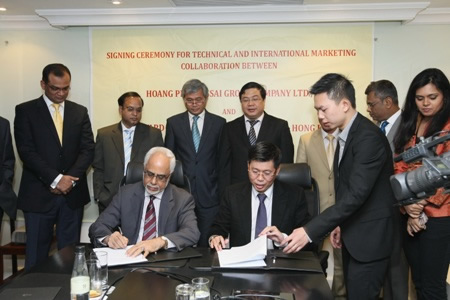 The value of the contract signed on 23 September 2010 was up to USD 50 million/year
Addressing at the signing ceremony, Mr. Fazlae Azim, President of PEAKWARD ENTERPRISES said that PEAKWARD ENTERPRISES was a multi-sectoral corporation, particularly strong in the field of import and export of construction materials. Currently PEAKWARD ENTERPRISES has been present in over 120 countries worldwide. Such corporation is going to take Clinker and The Vissai Cement to its official worldwide distribution channels, especially to difficult markets that require strict control on quality and environment such as Japanese, the Middle East and European markets, which represents the acknowledged growth of The Vissai brand in particular and Vietnamese cement industry in general.
Earlier on 29 July 2010, the first tons of goods in the export package goods of 100,000 tons of clinker branded The Vissai were exported to Philippines market. This was the first Clinker export contract in 2010 of The Vissai Group, also a good signal for Vietnam cement industry in the current period when, according to the statistics from economic management agencies, the supply of cement has exceeded demand by nearly 3 million tons. According to Mr. Nguyen Tien Dat, The Vissai's foreign market curator said that right in the remaining months of this 2010, The Vissai Group and its partners would implement the next contracts for putting 1 million tons of The Vissai cement and clinker to the Southeast Asia market, West Asia market and other markets, which showed the right direction of The Vissai's leadership in the context of current domestic market.
vissaigroup