On the morning of 15 February, Nghe An PPC held a conference to meet with investors in Lunar New Year Giap Ngo 2014. The conference attracted the attention and participation of hundreds of businesses and investors on a variety of economic sectors from many provinces in the country and abroad.
National Assembly Chairman Nguyen Sinh Hung made a speech at the conference.
Attending the conference were Mr. Nguyen Sinh Hung – member of Political Bureau cum National Assembly Chairman, Mr. Vuong Dinh Hue, Head of the Central Economic, Mr. Tran Van Hang, Chairman of Foreign Relations Committee, Mr. Nguyen Van Binh, Governor of the State Bank; leaders of Nghe An PPC, provincial and district departments as well as nearly 500 delegates who are domestic and foreign investors.
This is the 6th consecutive year that Nghe An PPC held a conference to gather investors in order to meet, dialogue and acknowledge the contributions of businesses and investors to the development of the beloved Uncle Ho's homeland. The Spring meeting on Lunar New Year Giap Ngo 2014 means a lot to the implementation of Resolution 26 of the Political Bureau on the orientation and development tasks of Nghe An Province until 2020.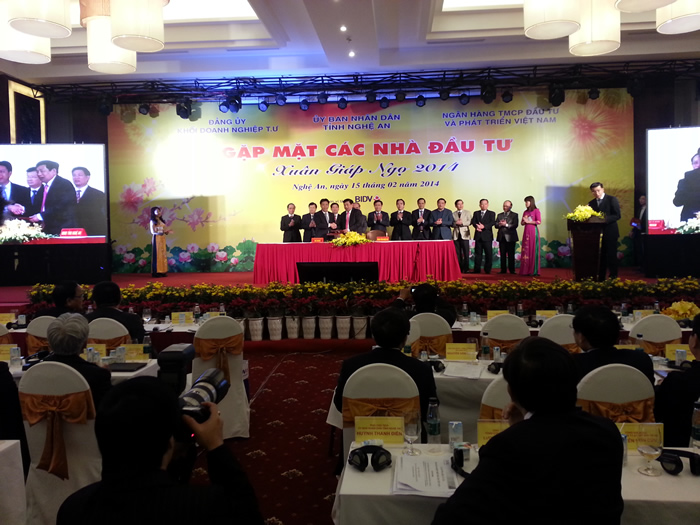 Mr. Nguyen Ngoc Oanh – General Director of The Vissai Cement Group signs the investment cooperation contract at the conference
Based on the strengths and potential of human capital, The Vissai Cement Group has grown tremendously into a conglomerate in order to meet the domestic and international economic situation and tasks.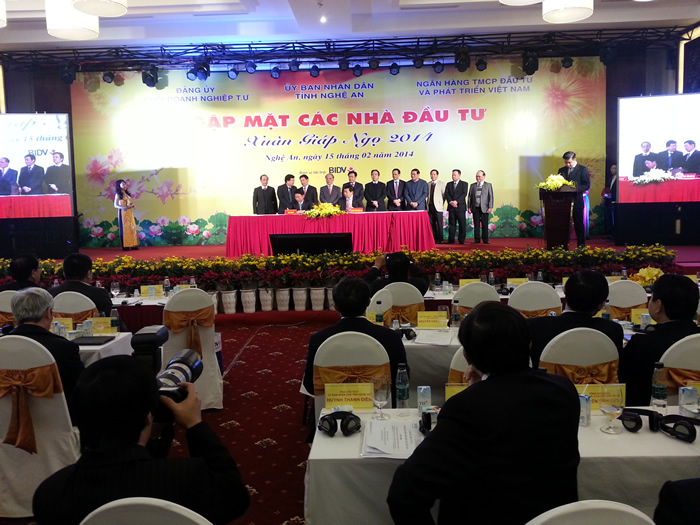 Mission:
The Vissai Cement Group has established a new competitive position in the central regional market with a mission to always put the customer's interests first, providing the best service to meet the most expectations and satisfaction of customers
Over a long period of proving its prestige and brand name on the market, The Vissai Cement Group has been still holding its strength on the key business activities.
With the participation and signing of the investment project to construct Do Luong Cement Plant (Vissai Do Luong) in Nghe An, The Vissai Cement Plant is striving to be one of the leading investors in Vietnam.