On 31 December 2013, at The Vissai 5-star hotel, The Vissai Cement Group held a summation conference of the 2013 mission and plan for 2014. Attending the conference were Mr. Hoang Manh Truong, Chairman of Member Council, members of management board, leaders and all cadres of the Group.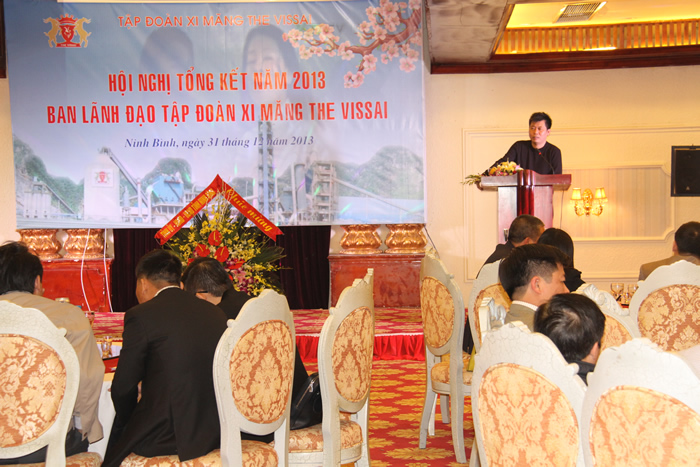 At the conference, Mr. Nguyen Ngoc Oanh – the Group CEO – presented a report on the operations of the Group in 2013, evaluation on the achieved results and action plans for 2014…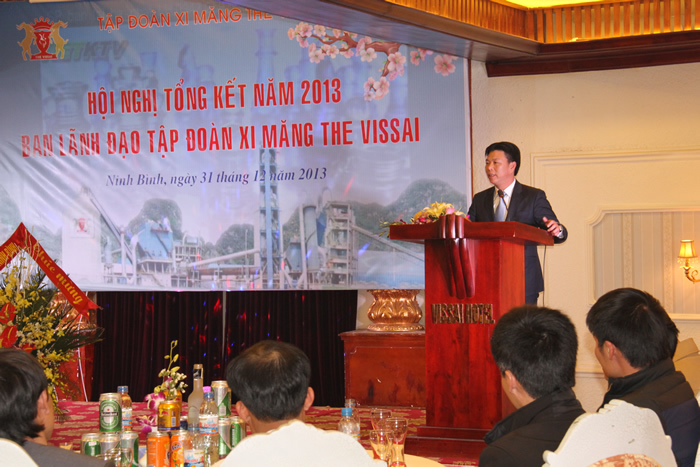 In 2013, the Group has implemented production and business activities, applied research and put into production many modern equipments and technology as well as conducted exchange programs to study and gain experience in management and mining production with large corporations, dealing with unexpected tasks, underwriting programs as well as supporting agents and suppliers across the country. Especially at the end of 2013, the Group has added one more cement plant named The Vissai Ha Nam Cement Plan with a capacity of 3000 tons/day in operation..
Evaluating the results of the production business in 2013, Mr. Nguyen Ngoc Oanh stressed that the Group in general had been continued promoting the achievements gained in the previous year and already completed the set target in 2013. According to the statistics, the Vissai's total output in 2013 is 6.2 million tons of clinker and cement of various types, in which approximately 5.9 million tons have been sold in domestic and foreign markets.
In 2013, the Group continued to strive to improve product quality by adopting planning, enhanced process and modern technology in the production, management and administration. 2013 was the first year that the Group adopted the quality management as per ISO 9001: 2008.
Despite some initial achieved results in the quality enhancement, development and research of business activities, there are many challenges to the Group in the implementation of production activities leading to the unexpected incidents that stop the furnace. In addition, the weakening global economic situations make the demand of cement in the market less promising.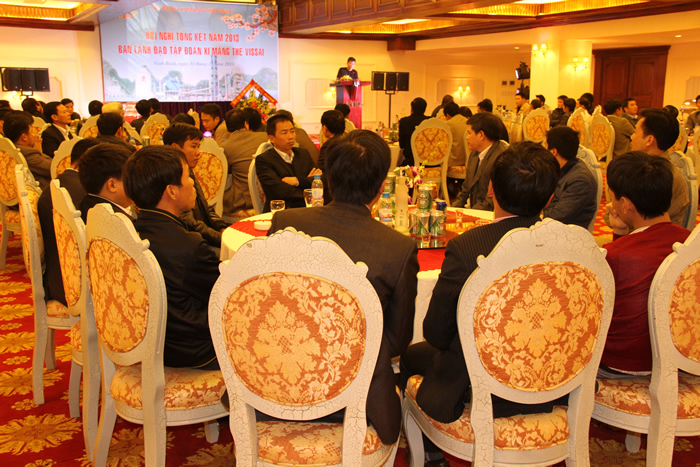 Leaders of the Group's plants have also highly appreciated the Group's achieved results. However, many leaders contributed ideas and came up with many development solutions for next year where the focus was mostly to complete high-quality human resources in a number of outlying plants.
Addressing at the conference, Mr. Hoang Manh Truong – Chairman of Member Council praised the achievements gained by the Group in recent years. However, 2014 was signaled as a tough year, full of thorns for the cement industry and the Group should continue to consolidate and strengthen the apparatus as well as cadres' capacity, better improve the quality of products, make savings in the production, providing with The Vissai's clinker and cement of high quality which qualify US and Europe standards.,.