On the morning of 17 August 2010, at The Vissai Cement Group, the second Union Congress of The Vissai Cement term 2010-2012 was solemnly inaugurated. Attending the congress were Mr. Hoang Huu Nen, Vice President of Ninh Binh Provincial Labor Federation and representatives from the Management Board of Industrial Zones and Trade Unions of Provincial Industrial Zones. From the Group leaders were Mr. Dinh Quoc Quyen, Party Committee Secretary, Mr. Nguyen Vu Thanh and Mr. Vu Xuan Dung, Deputy Directors as well as more than 70 elite union members representing unit unions.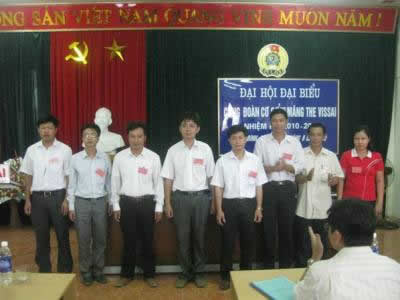 The Congress listened to the summary report of term 2007-2010 presented by Mr. Nguyen Van Can, Union President and presentations from attendants on the pros and cons of the Union term 2007-2010 as well as directions and tasks for the term 2010-2012.
At the same day, the Congress elected the new Union Executive Committee including 9 members. The new Executive Committee elected the Standing Committee including 3 members, positions of President and Vice President as well as Supervision Committee term 2010-2012.