On 12 January 2009, THE VISSAI Steel Cement Industrial Group held a Customer Conference at the VISSAI Cement Plant.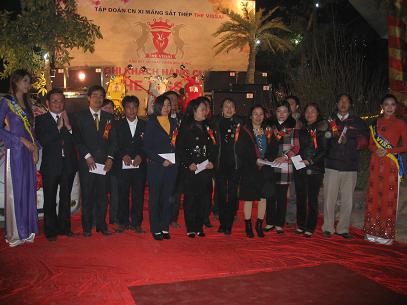 More than 1,500 agents from the North, Central and South of Vietnam gathered at the conference. The conference welcomed in honor Mr. Bui Van Thang, President of Provincial People's Committee and leaders of Provincial Party Committee and Ninh Binh Provincial People's Committee who attended and sent congratulation flowers.
More than 30 agents were awarded with many valuable gifts and artifacts: Agent Xuan Thu from Ninh Binh was awarded with a car valued at nearly VND 300 million. Three agents that have large consumption representing the North, Central and South of Vietnam received 03 scooters valued at VND 100 million per motorbike. Many other agents received awards valued from VND 10 million to VND 30 million.
2008 is the year of financial turmoil in the world in general and Vietnam in specific, sharp decline of which has a huge impact on the economy. According to incomplete statistics, there were more than 150,000 workers who lost their jobs in the country. Domestic consumption and exports plummeted. Thanks to the attention of the authorities and industries, officers and employees of THE VISSAI stood up to the challenges and constantly improve labor productivity with higher sales month after month, rehabilitate workers' psychology as well as recruit workers and create jobs for over 1,000 workers in the locality and vicinity.
Addressing at the conference, Mr. Hoang Manh Truong, President of Member Council emphasized "In 2009, THE VISSAI will strive to achieve and exceed the targets set out, in particular: line 2 of cement plant, Dung Quat cement plant and Ba Ria Vung Tau cement plant will be inaugurated in the second quarter, forth quarter of 2009 and 2010 respectively.