(TVS) On 5 May 2011, at Gia Son commune, Nho Quan district, Ninh Binh province, the Provincial People's Council together with The Vissai Cement Group and local representatives held a charity gifts including: 10 tons of cement, 10 thousands of brick and 10 million in cash for the first households in the locality under the project supporting the construction of 160 gratitude houses in the province, with a value up to nearly VND 5 billion funded by The Vissai Cement Group.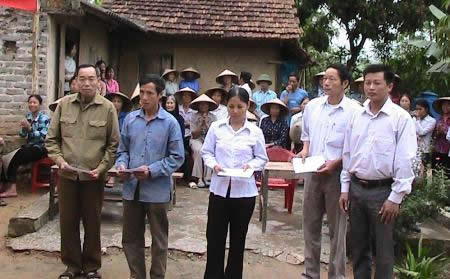 Mr. Tran Thanh Tuan, Deputy Business Director Business of The Vissai Group was giving gifts for household representatives
Representatives of the Provincial Council, Mr. Dinh Chung Phung – Vice President of Provincial People's Council made a speech to recognize and highly appreciate The Vissai Cement Group's contribution and efforts in the implementation of the provincial poverty alleviation policies. He also encouraged people and called for spirit of mutual caring and support under direct guidance of the Provincial Council with the support of sponsors who determined to put the entire 160 homes in the project to be in use in the shortest time.
Mr. Dinh Chung Phung – Vice President of Provincial People's Council and The Vissai Group's leaderships participated in transferring materials to help people.
Representative from households receiving such bailout expressed thanks to the leaders of province, district and commune for special interest and favorable material conditions, particularly thanks to The Vissai Cement Group which is now stationed in the province for their generous help to turn the dream of poor people who desire for a solid accommodation to come true, step by step settling out of poverty.
In recent years, The Vissai Cement Group has had many programs to support the poor and policy beneficiaries in the areas where there are the Group's subsidiaries. This time, the support project has a total budget of nearly VND 5 billion that is given in construction materials and part in cash to households of the project, which demonstrates the policy of the Group's leadership in the implementation of humanitarian guidelines to support locality in poverty reduction.