Japan's former cultural envoy, the AUN J Classic Orchestra, which consists of eight young traditional Japanese musicians, will present a concert in Ha Noi on Thursday.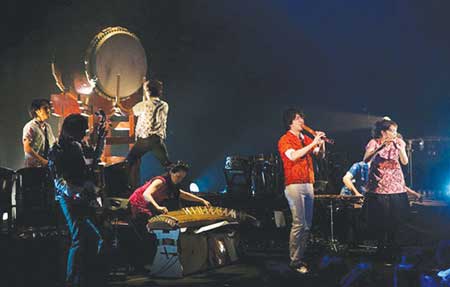 Cultural envoys: AUN J Classic Orchestra will be on stage at the Youth Theatre on Thursday. — Photo courtesy of Japan Foundation Centre
Based upon the notion that "music has no borders, but roots", as well as aiming to convey the beauty of Japan's culture and its musical instruments, the twin brothers and taiko Japanese drum artists Ryohei and Kohei founded the orchestra in 2008, along with young artists from Koto and Shakuhachi.
These musicians deliver the simple, but strong message to audiences worldwide, that "Japanese traditional music instruments are plain, simple and cool", said officials.
After their establishment, the AUN J Classic Orchestra released their debut album, Wagakki de Ghibli, (Studio Ghibli's music played on Japanese instruments). On their fifth anniversary, on March 13, 2013, they released their fifth album, Hachinin no Hibiki – Resonance of the Eight.
The orchestra has performed in more than 70 locations throughout Japan, as well as in France, Italy, China, Papua New Guinea and Croatia, to convey in music the beauty of Japanese culture.
All orchestra members have earned awards in Japan and abroad, playing traditional Japanese instruments, such as taiko, shamisen (three-stringed Japanese lute), koto (13-stringed Japanese zither), shakuhachi (Japanese bamboo flute), shinobue (Japanese transverse flute), and narimono (Japanese percussion).
Their Ha Noi concert on Thursday will also feature two traditional Vietnamese musicians, Ngo Tra My and Nguyen Thanh Thuy, who shared the stage with AUN in 2011.
My – a dan bau (one-stringed Vietnamese zither) artist, and a Thuy musician – playing a dan tranh (plucked zither of Viet Nam) will display the beauty of Vietnamese culture into the concert programme.
Hosted by the Japan Foundation Centre for Cultural Exchange in Viet Nam, the concert will begin at 8pm at the Youth Theatre, 11 Ngo Thi Nham Street.
Source: VNS