On 6/6, a on-line conference on tourist environment improvement in Vietnam was held by the State's Steering Committee on Tourism and chaired by Deputy Prime Minister Nguyen Thien Nhan. Ninh Binh province's participants in the conference included Mr. Tran Huu Binh, Vice Chairperson of the provincial People's Committee; leaders of relevant departments and leaders of the districts, city and towns.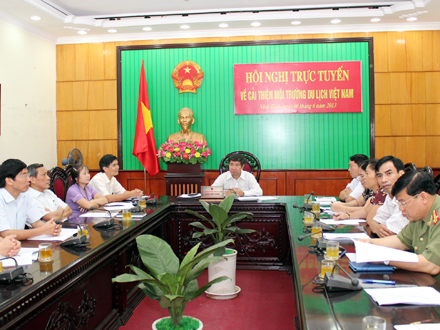 Delegates in the conference held in Ninh Binh. Photo: DL
The conference mentioned actual status as a serious problem of Vietnam tourism sector, such as loose inter-sectorial coordination, no responsible unit; problem of seasonal business and smuggling; harmony between supply and demand; awareness enhancement of the people in behaving with tourists; long-term solution and peak campaigns in ensuring security and order in the tourist sites. 
Representatives of some ministries, departments and localities discussed and clarify policies and solutions to improve Vietnam's tourist environment, focusing on some problems like security and order for the tourists, service price and insistence for the tourists; connection of forces in tourist environmental protection; and role and responsibility of the State management agencies with a view to develop Vietnam's tourist environment as a safe and friendly destination.
Representatives of some localities shared experiences and solutions to improve tourist environmental conditions and experiences in inter-sectorial coordination and activities of tourist support center.
To conclude the conference, Deputy Prime Minister Nguyen Thien Nhan emphasized that tourism was a key economic industry, but its growth rate has been gradually reduced in past time.
To remedy such situation, the Deputy Prime Minister requested that in next time, the localities must complete national-scale tourist sites; ensure civilization and convenience; develop a safe and friendly tourist environment; enhance capacity and awareness of the forces to ensure tourist environment and promote community role in improving tourist environment.
Among solutions, the Deputy Prime Minister notes that the tourism must change topics to highlight Vietnam as a safe, friendly and civilized destination and tourists' smile as future of Vietnam's tourist sector; leaders of the localities must be responsible for tourist development and coordinate with relevant agencies to remedy and manage tourist activities; and build tourist support centers and tourist markets …
The Deputy Prime Minister requests the Ministry of Culture, Sports and Tourism to urgently issue regulation on administrative penalty for tourist related breaches; and deploy Wi-Fi network coverage in the tourist centers to direct the tourists.
Nguyen Thom