Hoa Lu was the capital of Vietnam from 968 A.D to 1010. Hoa Lu ancient capital existed for 42 years including 12 first years of Dinh dynasty (968-980), 29 next years of Early Le dynasty (980-1009) and the last year of Ly dynasty (1009-1010).
In 1010, Ly Thai To King transferred the capital to Thang Long (now Hanoi) and Hoa Lu became known as the ancient capital. Hoa Lu is a large-scale capital designed and constructed by Vietnamese people. It confirms bravery, brainpower, creativeness and independent and self-control awareness of Vietnamese people in Century X. 
A great stronghold architectural work
Dinh and Le dynasties based on natural topography to build 10 sections of wall connected to the limestone mountains and form Hoa Lu wall with its area of 300ha. Dinh and Le dynasties built defensive earthen walls, palaces, temples and shrines replying on the mountain position to build a strong defensive work as a separate fortress. Hoa Lu capital was surrounded and protected by arc limestone mountains.  Gaps between the mountain sides were closed by bricks and embanked 8-10m. At present, many sections of wall exist.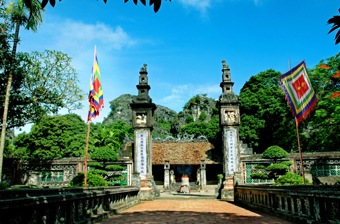 Temple of Dinh Tien Hoang King
Dinh Tien Hoang King exploited nature to serve for people. This architectural style saved human force and assets to the maximum. It was said that Hoa Lu capital is a firm citadel created by natural and human. The capital was located near Hoang Long River to the North; so, the waterway was very convenient.
Outer Citadel, now located in Yen Thuong and Yen Thanh hamlets, Truong Yen commune, was a main palace where Dinh King staked out the state plage and where Dinh King and Le King are presently worshipped. In front of the palace is Ma Yen Mountain. Legend has it that Dinh Tien Hoang Kinh used this mountain.
Inner Citadel is wider and cross the Outer Citadel by a mountain, called Quen Vong, and Dong Bridge, Ren Bridge, ect for children rearing and storage. Outside the Citadel are many guardhouses.
The Citadel is surrounded by the large mountains and a secret and defensive place far from the border. Northern invaders are difficult to study and launch attack waves in a wink. 
To the Northeast of the Citadel has Cot Co Mountain where Dinh King set out the country's flag and review naval forces on Sao Khe River. To the Southeast of the Outer Citadel is Am Tien Cave on the halfway of mountain where Dinh King raise tigers and panthers to punish the crimes. At the foot is Giai Pond where Dinh King threw the crimes to the pond to feed the tortoise. Besides, there are Muoi Cave, Tien Cave, ect where the King kept foods and treasury. 
All mountainous and rivers and the ancient citadel go up and down due to the nature and human, like Ha Long Bay on land, creating a solemn, grandiose and open architectural community. Hoa Lu Citadel had Outer Citadel and Inner Citadel.
Outer Citadel covers an area of approximately 140ha in Yen Thuong and Yen Thanh hamlets, Truong Yen commune and has 5 sections of wall connecting mountain ranges into a closed circle.
This is a main palace that Dinh and Le Temples are in the middle. Vestiges of the palace foundations in the 10th century were detected by the investigation and excavation of the Institute of Archaeology. Among hundred of the antiquities founded, there were paving tiles with sophisticated lotus shaped decoration and dimension 0.78n x 0.48m, even tiles carved with "Đại Việt quốc quân thành chuyên" (it means that these tiles were only used for construction of Dai Viet Citadel).
During 42 years of existence (968-1010), Hoa Lu Capital was a political and cultural center of an independent and self-control state in the 10th century. This is a place to create position and force for the country to transit to a bright development under the Ly – Tran reigns in the next centuries.
This is a place connected with country foundation and defense and permanent resting-place of Dinh King and Le King.
In front of Dinh Temple, on the top of Ma Yen Mountain up to 265 steps is the temple of Dinh King, where the King was buried. The temple of Dinh Tien Hoang King is located in the middle of mountain sagged down as an addle shape. The temple was built with stone with a altar placed on a stone censer. In front of the temple has a stone stele carved "Đinh triều, Tiên Hoàng để chi lăng, Minh Mạng nhị thập nhất niên ngũ nguyệt, sơ nhị nhật phụng sắc kiến" on the frontal side and "Hàm Nghi nguyên niên cửu nguyệt, nhị thập tứ nhật trùng tu tiên đế lăng" on the rear side. Through the stone stele, the people know that the temple was built from the 21st Minh Mang year to the 1st Ham Nghi year restored.
The tomb of Le Dai Hanh is located at the foot of Ma Yen Mountain to the south. There are two mountains on two sides of the tomb in "Long chầu, hổ phục" style incorporating the principles of "phong thủy" (Chinese: "feng shui"). The tomb was built with stone like the tomb of Dinh King. In front of the tomb is a stele of Minh Mang dynasty.
The tombs of Dinh King and Le King were built in 1840 (the 21st Minh Mang reign year) and restored in 1885 (the first Ham Nghi reign year).
The temple of Dinh Tien Hoang King is located in Truong Yen Thuong hamlet, Truong Yen commune, Hoa Lu district and covers an area of 5ha in the historical – cultural site of Hoa Lu ancient capital. The temple is faced with the East and in front of the temple is Ma Yen Mountain.
The temple was built in the 17th century in the "nội công ngoại quốc" style. The temple of Dinh Tien Hoang King is a unique architecture in the carving arts of Vietnamese folk artists in the 17th – 19th centuries.
The temple of Le Dai Hanh King, called Ha Temple, is 500m from the temple of Dinh King. The temple is reflected in Hoang Long river branch. Den Mountain is front of it and Dia Mountain is back it. Le King temple is smaller than Dinh King temple, but is divided into three parts: Bai Duong, Thien Huong, Chinh Cung where Le Hoan is worshipped, Le Long Dinh is on the right and Queen Duong Van Nga is on the left. Unique feature of the temple of Le Dai Hanh King was the carving art of Century 17.
Besides, Hoa Lu ancient capital has other historical relics, like Cot Co Mountains, Sao Khe River and temple of Phat Kim princess.
Existing for 42 years with 6 kings of 3 dynasties, Hoa Lu was a capital of Dai Co Viet State in the 10th century. This was a military citadel, a large cultural center and a place of "chèo" theatrical arts. Hoa Lu capital plays a historical role although it existed for a half of the century; the first king of Vietnam united and built Hoa Lu capital based on dangerous mountains and took advantages of natural conditions and limestone mountains and river system to form a "defensive wall" in line with the historical context of the first foundation. Hoa Lu ancient capital has a special importance of historical value in Ninh Binh in particular and the whole country in general.
Trang An Caves was a Southern defensive system of Hoa Lu Citadel (called South Citadel). This is a system of mountainous and rivers planned one of the largest eco-tourist sites in Vietnam. But it is said that among the eco-tourist sites in Vietnam, Trang An eco-tourist site is the only place to have Hoa Lu ancial capital as a fulcrum for sustainable development. Hoa Lu ancient capital creates invaluable historical values for this eco-tourist site and this site will make significant contributions to turn invaluable values into physical strength in the innovation and development period.