Investors have arranged big money ready to disburse for the big investment deals once the State sells its stakes in some enterprises.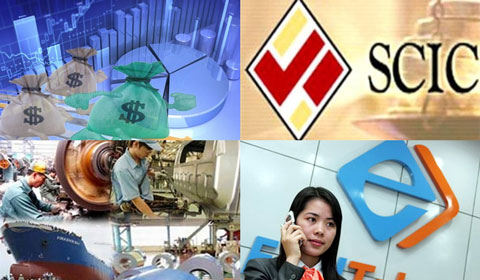 Analysts have commented that the gloomy stock market does not mean the unattractiveness of shares or the investors' financial problems. Investors have a lot of money in their pockets, but they want to buy good commodities.
On December 20, 6.5 million Vinacafe Bien Hoa shares (VCF), or 24 percent of the company's stakes, were sold for VND880 billion.
The seller was Vinacafe, which sold the shares in as a part of its financial restructuring plan announced before.
The successful deal showed that it's not so difficult for state owned economic groups to withdraw capital as they complained. VCF price has increased by three folds over the last 3 years to VND140,000 per share. This means that it is very easy to find buyers for good shares.
It was a surprise that the buyer in the deal was not Masan Consumers, now holding more than 50 percent of stakes,  which many times showed its determination to buy more VCF to increase ownership ratio. The buyer was a foreign investor, whose name would be made public soon because he has become a big shareholder of Vinacafe Bien Hoa.
NSC, a seed corporation, last week stirred up the public with its plan to issue shares at high price of VND65,000 per share, which is double the book value. The overly high prices which have raised controversy partially show the enterprise's managers and big shareholders believe in the attractiveness of NSC shares.
The State Capital Investment Corporation (SCIC), a "superb corporation" which is in charge of making investment in enterprises with the state's money, has been commanded to withdraw capital from a series of enterprises, including NSC. As such, it is foreseeable that the state's shares at NSC would go for a good price.
A lot of other successful capital withdrawal affairs have also been reported. The national flag air carrier Vietnam Airlines successfully sold 24 million Techcombank shares. The Electricity of Vietnam (EVN) sold VND250 billion worth of ABBank shares. Vietcombank earned VND160 billion from the sale of 2.7 million PVD shares.
The Vietnam Coal and Mineral Industries Group (Vinacomin) has successfully withdrawn capital from SHB – Vinacomin, BIDV Highway Development JSC, Long Thanh International Airport JSC. It has also reportedly chosen the suitable partners to transfer the stakes of its finance company.
The textile and garment group Vinatex has got VND200 billion after withdrawing capital from seven enterprises. It is moving ahead with the plan to take back the investment capital in other non-core business fields, including securities, finance and banking before shifting to operate as joint-stock company.
A new strong wave?
Tens of the state owned economic groups and general corporations have got the approval for their plans to withdraw capital from non-core business fields.
The capital withdrawal process has been scheduled to be completed by 2015. However, to date, only 20 percent of the total capital has been withdrawn, which means that the enterprises have gone only 1/5 of the way they need to go.
The plans of the big guys to make IPO, the most expected by investor, have not gone far. Investors have got ready to pour money to buy the shares of Vietnam Airlines, VinaPhone and MobiFone. However, their money still has been put in coffers. Sabeco, GAS, Bao Viet Holding, DPM, Vietinbank, in which the State holds the controlling stakes, still have not been found suitable partners.
However, analysts believe a new investment wave would be raised in 2014, when investors show their stronger interest in the shares the State is going to sell, and the State shows stronger determination to sell stakes to reduce the state's ownership ratios in enterprises.
A lot of commercial affairs are believed to gain big successes in 2014, including the ones in which SCIC sells 1.6 million Vinh Hao mineral company's shares at VND85,000 per share, 255.3 million Vinaconex shares and other big companies.
Manh Ha