The job of being a TV presenter in Vietnam has been under scrutiny after they accidentally raised public anger with "inappropriate" script.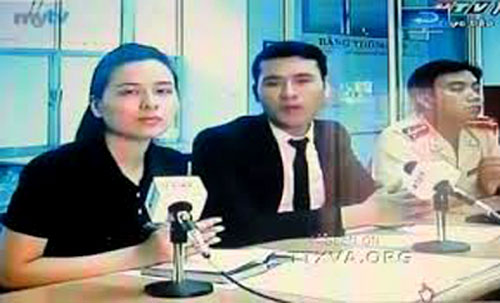 Le Minh Ngoc in HTV's traffic programme. 
When reality and game shows are introduced and become popular in Vietnam, the hosts have become almost an equal attraction in the last few years, as television stars, actors and models have jockeyed for these positions. Even though many people from different backgrounds seek after the job, few become the television personalities they would hope to be.
Recently, young presenters have started to replace older ones, but due to lack of experience some of them have accidentally stirred up public rage by their speech.
One of the most recent incidents occurred during a live porgramme on traffic two months ago. Le Minh Ngoc, from the HTV Channel, said, "As you know, we are having the state funeral for General Vo Nguyen Giap today. Many people will want to visit and say their final farewells to the general, so please follow the traffic lights and instructions in order to have a safe and happy state funeral day."
The programme was heavily criticised by the public.
Despite an apology from Le Minh Ngoc and some of the managers of the channel, many people still said this was an unforgivable mistake for a presenter.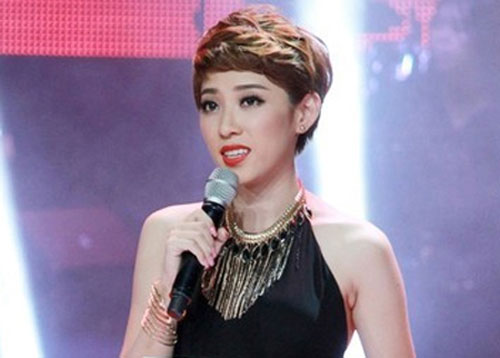 Yumi Duong
During the music game show The Voice 2013, young host, Yumi Duong, committed a similar "mistake" during a live broadcasted. After introducing the contestants for charity work, she said, "Please give an applause for the contestants, as well as the victims of the floods and storm in the central regions."
The matter was very sensitive at that time, as many people were still worried about the damages and casualties caused by Storm Haiyan.
The hosts often have to bear a huge amount of responsibility for what they say, especially during live broadcasts. "The host has the responsibility of shaping the show, not just reading from a teleprompter," said journalist Ta Bich Loan, a well-known presenter for many TV shows.
Source: DTriNews