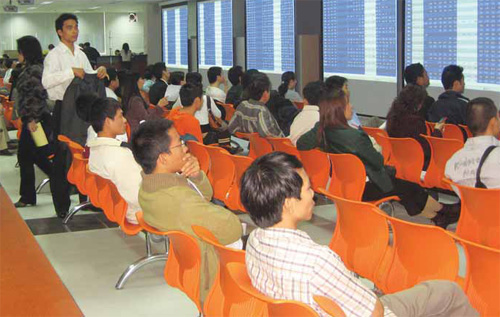 Foreign investors' net purchase value has reached $200 million so far this year, according to the HCM City Stock Exchange. The figure is really very small if compared with the golden age of the Vietnamese stock market in 2006-2007. However, it is very encouraging if noting that the stock prices are at the lowest levels in the history of the stock market.
Don Lam, CEO of VinaCapital fund management company, told the press many times that the funds being managed by the company have $250 million in cash and that they are expecting the best opportunities to make disbursement.
Meanwhile, Andy Ho, Investment Director of VinaCapital last week said the right time to come back for disbursement nears. Of the close end funds present in Vietnam for the last five years, the funds of VinaCapital are the only institutions which still have so much money.
Foreign investors seemingly have regained their optimism after witnessing the prices of VN-30 shares (the shares with the highest capitalization value in the market) standing firmly high after reaching their peaks in mid-May, or increasing by 30-70 percent from the deepest low last December.
The prices of bluechips have been firmly high thanks to the reported good business results of the leading companies such as Vinamilk, Hau Giang Pharmacy, FPT, REE or Hoa Phat Group.
Kevin Snowball from PXP Vietnam believes that investors are now in the early stage of the bull market. The growth rate of the net asset of PXP Vietnam has been higher than the VN Index increase thanks to Vinamilk shares, dominating its investment portfolio. Meanwhile, Vinamilk, the leading dairy producer, has been growing strongly so far.
Prior to that, Dragon Capital, a fund management company, released a report, noting that it is now the right time to buy shares of potential real estate firms. Just three months after the report was released, the stock market witnessed the recovery of the shares.
The foreign investors' optimism explained the establishment of a new open end fund managed by Asia Frontier Capital. The fund with the investment capital of $50 million would target Vietnamese listed companies.
The big significance of the fund does not lie in the number of investment capital, but in the time it is established. It is the only investment fund specializing in making investments in Vietnam set up over the last seven years. The move, in the eyes of analysts, shows that investors now expect the market prosperity and they have got ready for the disbursement.
All that is happening in the market can clearly show the readiness of the foreign portfolio investment capital. The Securities Depository Center reportedly has granted securities transaction codes to 16,677 foreign investors, including 2,243 institutional investors.
Dinh Quang Hoan, Deputy General Director of Ban Viet Securities Company, has confirmed that some big foreign funds have opened their accounts at Ban Viet. This means that they believe the time to make disbursement is nearing.
Thanh Mai