Currently, the construction materials market is showing signs of prosperity along with the positive changes of the real estate market.
In the first 4 months of the year, steel production is estimated to reach 848.6 thousand tons, increase by 21.7 % over the same period meanwhile steel bars and angle iron are estimated to be 1.1 million tons, making up 9.3 % in comparison with the same period, … inventory reduction. This shows that the steel market is showing signs of prosperity.
However, in general, the steel industry is facing with so many difficulties, especially, fierce competition of cheap steel imported from China. The construction steel, cold rolled steel sheets, galvanized steel sheets, steel pipes in the domestic market are redundant meanwhile hot rolled steel has not been produced domestically and been imported. Formosa and Posco are expected to produce hot rolled steel product in the following year.
Currently, in our country, steelmaking technology is mainly old (70%) with main input materials of ore and coke (HPG, Thai Nguyen) or steel scrap (VIS) .
Steel supply exceeds demand in the country so the plants only produce moderately, about 50 – 60% their capacity, except for Vina Kyoei which supplies steel for ODA projects funded by Japan with relatively stable output
Therefore, the Ministry of Industry and Trade advised enterprises to adjust the production plans suitable to the market to prevent from widespread production and too much inventory to reach the reasonable balance between supply and demand; In addition, the enterprises should renovate their technologies and save cost to improve their competitiveness to overcome the current difficulties.
The total steel consumption is anticipated to increase by 2-3 % in 2013. However, the demand for construction steel is still down. In the long term, potential of the steel industry is evaluated to be great because the current steel consumption per capita average of our country is still very low in comparison with the average steel consumption in Southeast Asia. Average steel consumption in the country reaches meanwhile it is 200 kg / person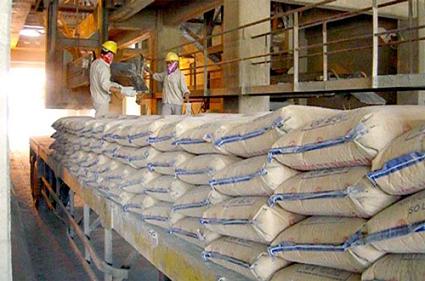 Building material market shows the signs of recovery
According to the statistics of the Ministry of Construction, cement consumption is increasing slightly, cement consumption output in the first 5 months of 2013 reached 23.8 million tons, accounting for 41 % of the plan of the year, especially in May, the cement consumption increased by 19 % over the same period.
Prof. Dr. Pham Van Bien assessed that, the market of cement, steel and other construction materials tends to return prosperity, due to demand encouragement in the real estate market in urban areas, especially in Hanoi and HCM City. This is a good sign for construction materials market.
However, cement consumption in the provinces is still gloomy. According to the Department of Trade and Industry of Gia Lai province, cement production fell sharply over the same period due to difficulties in the consumption market. Its cement products in May estimated to be 2,800 tons and they were 11,539 tons in 5 months, making up 10.3 of the annual plan, reducing by 54.4 % over the same period
The experts judged that the building materials market and the real estate market in 2013 would warm up but its prosperity is mild because frozen real estate can not be solved in the short term.
Theo Petrotimes