US to assist Vietnam in climate change adaptation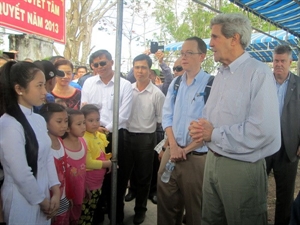 US State Secretary John Kerry talks to Ca Mau's students. Photo: VNA
The US will continue to support Vietnam's efforts to cope with climate change, US State Secretary John Kerry has said, adding that a 17 million USD project will be implemented to this end through the US Agency for International Development.
During his visit to Ngoc Hien district, the southernmost province of Ca Mau , on December 15, Kerry said the sea level is forecast to rise by 4 metres by the end of this century due to climate change, and Vietnam 's Mekong Delta region would be one of the hardest hit areas.
He stressed that in the future, humankind will have to not only adapt to climate change but also seek ways to prevent its impacts. He urged the effective use of clean energy while noting that it needs specific planning, including the building of hydropower projects, otherwise it will bring about other consequences on the environment.
In regions where economy relies on water sources like the Mekong Delta, residents are suffering from sea level rise and the planning of hydropower projects in the upper Mekong River.
The US will closely follow and put on the table this issue at international forums in the time to come, he added.
Earlier, the US State Secretary visited Duong Keo market in Ngoc Hien district, where he used to stay during the US War in Vietnam, and met locals of Kien Vang and Duong Keo hamlets.
Communication strategy built to reduce illegal wildlife consumption
The Biodiversity Conservation Agency (BCA) under the Vietnam Environment Administration on December 12 held a seminar to seek contributions to a draft communication strategy on reducing illegal consumption of wildlife.
According to Pham Anh Cuong, BCA Director, the strategy consists of a series of communication campaigns targeting specific consumer groups as well as calling for support from senior officials.
Hanoi , a populous city with a large wildlife consuming market – will be a pilot site of the strategy, Cuong said, adding that lessons drawn from the implementation of the strategy in the capital city will then be shared in other hot spots in the country.
The strategy will be divided into two phases. The first one, to commence in 2014, will focus on designing and implementing communication activities and publications for specific targeted groups, while the second phase aims to long-term activities and set up an online forum to promote post-2014 campaigns.
Among the ten countries with the richest biodiversity, Vietnam is home to 10 percent of all popular species in the world, whereas its territory accounts for less than 1 percent of the earth surface.
However, wildlife trading in Vietnam is alarming. Statistic from the Wildlife At Risk (WAR) show that 28 wild and 10 domesticated elephants died in Vietnam during the past four years, while hundreds of rhino horns were traded illegally.-
Japan helps Vietnam develop biofuels
Japanese and Vietnamese researchers have made considerable progress under a joint project on technologies to produce bio-fuels from agriculture waste, it was reported at a recent conference in Ho Chi Minh City.
The researchers have developed a sustainable model to convert bio-mass into bio-fuels such as bio-ethanol and bio-gas, Assoc Prof Vu Dinh Thanh, rector of the Ho Chi Minh City University of Technology ( HCM UT), told an annual symposium held to review the project in HCM City on Oct. 12.
According to Thanh, under the five-year Sustainable Integration of Local Agriculture and Biomass Industries (JICA- JST ) project, two laboratories have been set up at the HCM City University of Technology and Thai My village in the city's Cu Chi District to serve research activities.
A workshop has been set up in Thai My to pilot the bio-refinery technologies that have been developed to convert bio-mass into bio-energy.
Associate Professor Phan Dinh Tuan, head of the project, said while biogas has been used widely in rural areas in Vietnam , there is yet any technology to treat toxic gas emission from the burning of biogas.
Therefore, one of the project's main tasks are to eliminate toxic chemicals of biogas, Tuan said, adding that researchers are also looking for ways to turn the waste of ethanol and biogas into environmental friendly fertilizer.
The JICA- JST project has been implemented in Vietnam since October 2009 by the HCMUT, the University of Tokyo , the Hanoi University of Technology, Ho Chi Minh City Department of Science and Technology and the Institute of Tropical Biology.
It will wrap up next September.
Da Nang plant to treat wastewater
A wastewater treatment plant will be built in Non Nuoc in Ngu Hanh Son district, at a cost of 21.7 billion VND (1.03 million USD), the city of Da Nang has announced.
The plant, which will begin construction next year, will treat wastewater from the craft village, with a capacity of 1,500 cubic metres per day.
The city has located a 37ha area to relocate stone art production centres, but it has not begun due to a lack of funds.
According to the city's survey, the 400-year-old village, which is home to over 400 households with 5,000 craftsmen, has been heavily polluted in the residential quarters over past decades.
The production centres released over 21 tonnes of dust and 25,000 liters of sulfuric acid annually, as well as noise, into the environment.
Around 20 per cent of craftsmen suffer from lung disease due to breathing the polluted dust, according to officials.
In another development, the central city will start its Action Plan on Responding to Climate Change in Urban Areas beginning next year, Dang Quang Cuong, an official from the city's climate change office, said on December 13 .
The plan, which is part of the Support Program to Respond to Climate Change (SPRCC), with an aid package worth 136,000 euros (174,000 USD) funded by the Agency for Development of France (AFD), will conduct a survey on greenhouse gas emissions from commercial and residential buildings in urban areas, before creating a future reduction programme.
The City proposed four low-carbon model projects, including battery powered bicycles, technologies to curb greenhouse gas emissions and to use renewable energy sources, a metro system and rapid bus transit.
According to the city's Department of Natural Resources and Environment, Da Nang had cut 12,000 tonnes of carbon emissions between 2007-11 through a pilot project. The city is set to become a green city by 2020.
Last year, Da Nang was selected as an APEC Low-Carbon Model Town Project.
VNA/VNS