It was good news for Mr. Hau, the driver in the beer looting case in Dong Nai province, that the beer company did not ask him to pay compensation for the beer.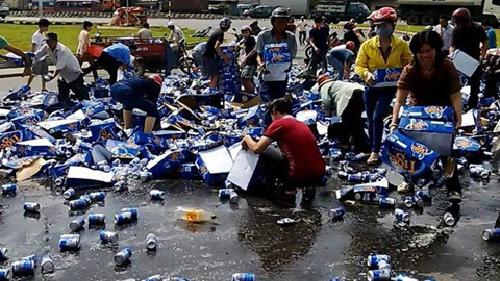 On December 13, the Vietnam Brewery Co., the producer of Tiger beer, released an announcement saying that truck driver–Ho Kim Hau, would not have to pay compensation and Hau would still be a worker of the Trang Tuan Transport and Auto Repair Company.
Hau was moved by the news. He said: "Initially when I was invited to a meeting at the beer company, I was extremely worried. However, I was extremely surprised when the company's director said that I would not have to pay compensation for damages. At that moment I felt as light as a lamp-wick grass, like I was on clouds."
Hau also thanked benefactors who raised money to help him pay compensation, which was VND150 million ($7,500) by December 13. "I will keep a little to improve my family's difficulties and use the rest to help those who are poorer than me in Dong Nai," the lucky driver said.
Hau, 30, has been working for Trang Tuan Transport Company for over a year. At noon of December 4, he drove a truck carrying more than 1,300 boxes of beer from HCM City to a shop in Binh Thuan province. At the Tam Hiep roundabout in Bien Hoa City, Dong Nai province, the truck leaned, the rails were broken, making over 1,000 boxes of beer fall onto the road.
Dozens of locals and passers-by looted the beer, neglecting the driver's pleas and tears. Within 15 minutes, over 1,000 boxes of beer were "robbed."
The beer looting has made the public angry.
The local police have investigated the case.
According to Lieutenant Colonel Tran Tien Dat, director of the Dong Nai Province Police Agency's Office, the police have summoned more than 10 people involved in the case for investigation. These people admitted their act and returned beer boxes that they took.
P. Linh