Ninh Binh Tourism – Ninh Binh province has many popular and attractive tourist destinations, such as eco-tourism zone of Trang'an, ancient capital of Hoa Lu, Tam Coc – Bich Dong, Bai Dinh pagoda, Cuc Phuong Natural Forest, Kenh Ga Hot Springs, Phat Diem Stone Church… a vast travel space, charming and glamorous mountain and water. In 2010, Ninh Binh is one of the locations celebrating many important cultural events towards the 1,000th  anniversary of Thang Long – Hanoi. On the occasion of September 02nd, the number of tourists traveled to Ninh Binh increased very high.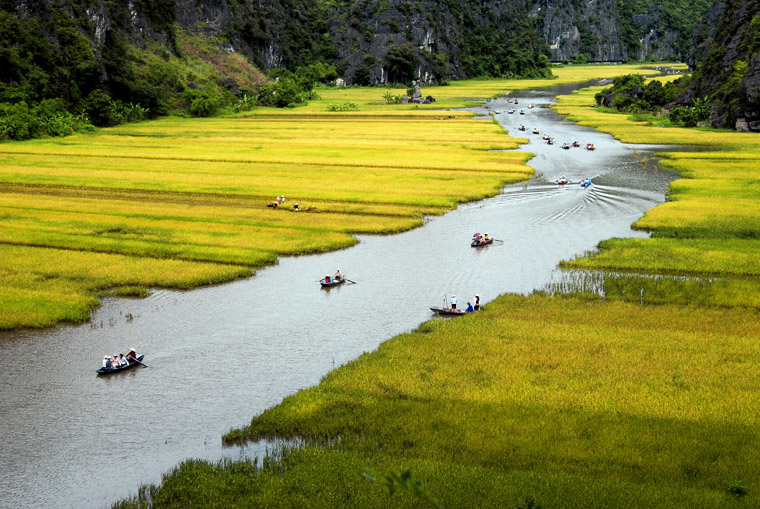 Ninh Binh tourism industry has innovated its management methods in the tourism regions, destinations, positively invested in upgrading transport infrastructure, encouraged investment in projects serving tourism such as restaurants, hotels, etc… so the status of disorder and visitors scramble has been stopped; the traffic congestion has been restricted; the catering and relaxing service gradually can be solved well;  the environmental sanitation in the tourism regions, destinations has been significantly improved, clean; the tourism team have made the​​markable progress towards high quality service, which is a very encouraging signal.
According to the Management Board of Resorts Tam Coc – Bich Dong, particularly on the occasions of September 02nd, over 1,000 visitors travelled, on peak days, this number was up to 2,000 passengers. More than 1,000 tourism boats carried visitors continuously, excitingly and were coordinated scientifically and thoughtfully.
Ninh Binh province has many advantages in tourism, rich and diverse tourism resources. Leadership and Ninh Binh People are actively promoting tourism development to make tourism become a key economic sector, contributing to socioeconomic growth of the province.  On the occasion of September 02nd and towards 1000th anniversary of Thang Long-Hanoi, the number of tourists travels to Ninh Binh is increasing more and more, which is very encouraging signal. Ninh Binh should actively introduce, propagate and promote the image of its land, people, culture, traditions and tourism much more to attract more tourists.
Source: Travel Guide