The domestic cinema industry badly needs a stimulus package to pick itself up, both in terms of quality and quantity, delegates said at an online conference held recently by the Ministry of Culture, Sports and Tourism.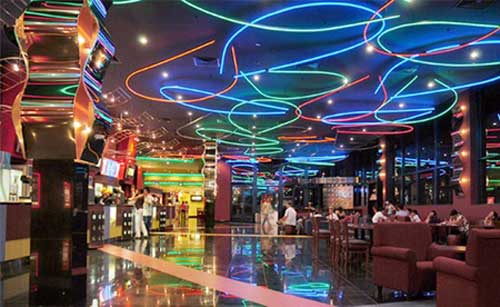 A cinema at a shopping mall in Ha Noi. Viet Nam's cinemas need a stimulus package to make them strong players in the region, according to experts and industry insiders. — Photo phununet.com
The conference aimed to gather public feedback on a draft development plan for the cinema industry from now to 2020.
The plan revolves around some basic themes, including State management of cinema; developing technical capabilities; training and developing a qualified human resource base for the industry; and international co-operation.
The draft plan also sets specific targets that are aimed at ensuring that the domestic cinema industry really prospers, thus fully exploiting its potential and meeting people's demand. These include building three major film studios in Ha Noi, HCM City and Da Nang, a modern technology centre and two modern cinema complexes.
In the northern region, 10 new cinemas will be built and 24 others will be upgraded, while the corresponding figures are 15 and 16 for provinces in the central region, and 24 and 8 for the southern provinces.
Most of the new cinemas will be built in localities that have had no such facility to date.
Herculean task
Conference participants cautioned that realising these targets in seven years will be a Herculean task for industry and its governing body, the culture ministry, especially given the tough economic conditions in the country at present.
Nguyen Danh Duong, director of the National Film Screening Centre, said that building 49 new cinemas and modern film studios, and restoring 48 would require a huge sum of money, but the State budget was already heavily constrained.
To fructify the development plans, the industry needs a stimulus package that gathers resources from the Government and various economic sectors, with top priority given to key facilities, Duong said.
He suggested that investment priority be given to installing modern equipment for the existing Co Loa Film Studio and building a new one in HCMC.
In the interim, the industry should focus investments into building a modern cinema centre in the central region to meet the demand of local people there instead of building a new film studio as mentioned in the draft development plan, he said.
Stage director Dang Nhat Minh agreed with Duong, saying all cinema investments should be made in ways that suited the country's economic conditions.
Minh said Viet Nam should come up with growth models for the cinema industry that match different development periods that the country goes through.
In particular, the Government should invest in facilities that can be used for both TV films and cinemas to reduce costs, he said.
Several bottlenecks
According to independent market watchdogs, the domestic cinema market has been rather gloomy in most localities nation-wide, with very exceptions like Ha Noi and HCMC.
Cinema entertainment is almost absent in rural and remote areas.
Meanwhile, the market, with its population of 90 million, is dominated by foreign films since a majority of homemade productions are of moderate quality.
Limited capital and the lack of close co-operation between film producers further hamper the industry.
While many private film companies have been established recently, they face unhealthy competition, making it difficult for them to compete with foreign counterparts.
Therefore, a stimulus package is of great importance if the target of making Vietnamese cinema a strong player in the region and the world is to be realised, experts and industry insiders concur.
Source: VNS