Ministry of Culture, Sports and Tourism issued Decision No. 3531/QD-BVHTTDL on 01-11-2011 on recognizing the National relic rank for the complex of Trang An caves in Ninh Binh province including Gia Sinh commune (Gia Vien), Ninh Xuan commune, Ninh Hai, Truong Yen, Ninh Hoa (Hoa Lu district) and Ninh Nhat commune, Tan Thanh ward (Ninh Binh city).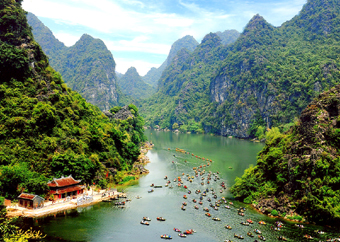 This is the legal basis and favorable conditions for Ninh Binh province to pay attention on the management, conservation, restoration and effective exploitation of the natural resources in order to attract visitors contributing to the socio-economic development in the province.
Associated with the introduction of the participants of the Union Congress of UNESCO associations and the Ambassadors of 30 countries and territories who visit Trang An Ecotourism Area, Hoa Lu ancient capital and spiritual cultural area of Bai Dinh pagoda in the recent August, the recognition of the National relic rank for complex of Trang An caves marks a very important milestones on the way of recommending the UNESCO to recognize as a world natural heritage.
Nguyen Dong