Van Long Nature Reserve (Gia Vien) has the quite diverse terrain, including a tropical forest ecosystems on limestone and extensive watery system marshes creating a complex of charming landscapes, a land of richly potential tourism.
Standing on Ba Chon peak, the highest peak in the area, visitors can see a sizeable space with endless mountains, undulating valleys, very blue forests, gentle countryside and green, immense rice fields, scene of a very magnificent countryside.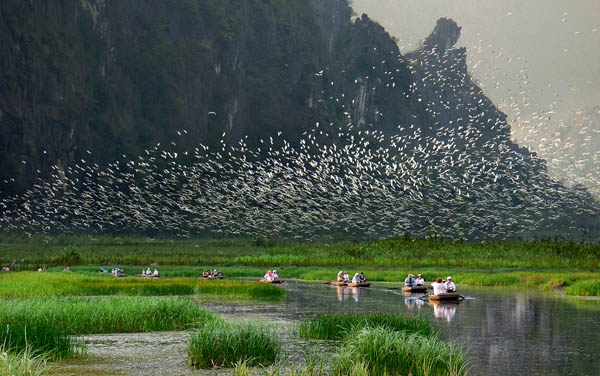 In addition to the forest area on limestone mountains which are is mainly, Van Long also has the most extensive watery system in the Northern delta, as a "waveless bay", because the immense water surface is embellished by "cỏ năn, cỏ lác", nenuphar which are always intermittent under the waves together with flocks of white storks hovering in the sunsets, further embroidering Van Long a very attractive landscape.
In the sunrise, standing on the dyke along the Reserve, visitors may panoramically enjoy Van Long lagoon as a water-colour painting reflecting the limestone mountains with the shapes as their names such as Meo Cao mountain, Ba Chon peak, Mam Xoi mountain, Hom Sach mountain, Da Ban mountain, Nghien mountain, Mo Coi mountain and Co Tien mountain, etc.
Swarming with the love of the native land, river ans water, on the bamboo boats, visitors go into Bong cave to enjoy the fairyland Doi mountain reflecting on the water, visiting Chanh cave, windy Kem Tram where visitors may feel the immense and gentle water surface, watching the moss layers and flocks of fishes in the lagoon.
Coming to Van Long, visitors not only contemplate the wild and neglected beauty of the grass and trees, but also watch herds of  Trachypithecus delacouri being carefree and amusing on hazardous cliff, watching herds of Black coots being engrossed in searching for food, hearing the call of flock of delacouri, etc.
Van Long has such about 100 beautiful and large caves with the value of developing the tourism as Ca, Bong, Rua, Chanh. Particularly, Ca cave is the longest and beautiful cave, cave ceiling has hang-down stalactite arcs with a lot of shapes. This is the place of collection and reproduction of many rare and valuable species such as snake-head for the King, Sinilabeo lemassoni and many other fish species such as catfish, anabas, black fish.
Van Long also has an attractive complex of cultural space with many valuable historic relics, the origination of Dinh dynasty, such as Hoa Lu cave in Lau Valley (Gia Hung commune), place of manoeuvre of Dinh Bo Linh before quelling the warlords to become King; mother temple in Thung La (Gia Hung commune); temple of four woman generals (Gia Van commune); Dich Long cave and pagoda (Gia Thanh commune) which is honored as   "the third cave in the South".
Van Long is favored by not only very beautiful landscapes but also the diversity of ecosystems. There are the ecosystem in the residence of the population other than the main ecosystems including terrestrial ecosystem formed on Kaster and aquatic ecosystem formed hollow areas. Each ecosystem bring its own characteristics, but in the view of conservation, there are two specially valuable ecosystems including secondary forest ecosystem on limestone mountains where Trachypithecus delacouri lives and many species of rare plants and animals. Swamp ecosystem is a place of conserving the aquatic flora which is typical in the Red River delta and a place of living for many communities of birds from the North.
Adjacent to the Van Long Nature Reserve, there is a complex of service, convalescence and ecology with full of facilities, built on the harmonious combination of modern Western architecture and oriental architecture, especially that of Hue ancient capital and of the traditional villages of the Red river delta in which is a rest stop and ideal entertainment for visitors who like the wild nature of Van Long.
Truong Sinh