Vietnam is facing many challenges in energy, food security and water resources given the adverse impacts of climate change, said Deputy Prime Minister Hoang Trung Hai.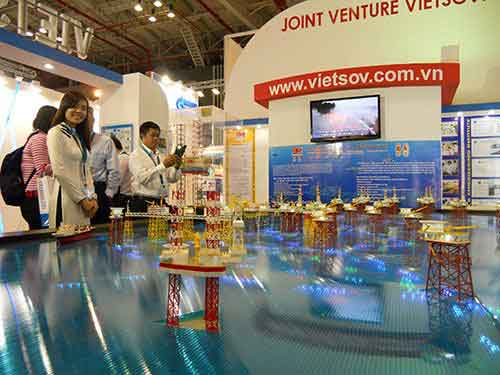 Customers visit a booth of Vietsovpetro at the ASCOPE Exhibition on Thursday.
If seawater levels rise by one meter, the nation will lose around 11% of gross domestic product (GDP) while 40% of total area of the Mekong Delta will be flooded, threatening food security, Hai said at the opening ceremony of the ASEAN Council on Petroleum (ASCOPE) Conference and Exhibition in HCMC on Thursday.
Energy consumption in Vietnam averages out at around 650 kilos of oil per capita each year while electricity consumption is around 1,200 kWh per capita each year, or one-tenth of the average consumption of developed countries. Vietnam is short of energy and will have to import energy from 2017.
To fix the problem, Vietnam will cooperate with partners and other countries to sustain energy supply and development for both sides.
Besides, Vietnam will have to confront challenges in food security and water resources. The nation now has a population of 90 million and will reach the saturation point at 130 million in 2030.
Climate change and rising seawater levels will threaten food security. Many regions in the country are facing water shortage due to salinity intrusion.
The demand for water has soared due to pressure for higher production output and living standards. The civil and industrial sector needed around 72 billion cubic meters of water in 2010.
Water demand in the nation is expected at 80 billion cubic meters each year by 2020 and 87 to 90 billion cubic meters a year by 2030, or around 11% of total water resources and 29% of domestic water resources.
In another estimation, water demand of the local economy may reach around 510 to 520 billion cubic meters a year by 2020. Therefore, relevant agencies and local authorities have to cooperate in water resources planning and examination to cope with the problem.
The 10th ASCOPE Conference and Exhibition is taking place in Saigon Exhibition & Convention Center until tomorrow with the theme "Innovation & Cooperation – The way forward." The event features around 150 booths of over 100 petroleum companies of ASEAN member countries.
The event is held every four years by different ASEAN member countries.
Source: SGT