To date, 280,000 hectares of the total 15.3 million hectares of forests have been allocated to local people for forestry production and 513,000 hectares have been allocated for management and protection. The figures would be increasing sharply in the future as local authorities have realized that Vietnam needs to rely on the community to protect forests.
The oath of forest protection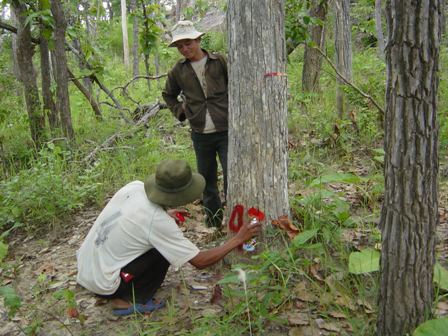 The village convention on forest protection has been existing in Ta Van Mong hamlet of Sa Pa district in Lao Cai province for a long time.
Every year, local people gather in early March of the lunar year, when the bamboo harvesting begins, for an oath taking ceremony.
At the ceremony, a five-member team in charge of protecting the forest is selected by local people. The team takes the responsibility of protecting the forests and reporting to the community about the forest management.
Here in the village, everyone understands well the important role of the forests in their lives. Therefore, those, who violate the village convention on forest protection, will be heavily punished.
The people, who go to the forests to fetch firewood without the permission of the security guards, will be forced to pay a VND35,000 fine for every bundle of dry firewood and VND25,000 for every bundle of wet firewood.
Meanwhile, those, who chop down a big tree in the forest, would have to pay one pig as a fine. If necessary, the punishments will be determined by the commune people's committee.
With the unanimity and strict rules followed by local people, the local forests have been protected for the last many years. Illegal logging activities do not happen there. The 350 hectares of generation forests have been growing very well.
Local people can best protect local forests
The reports by local authorities all showed that the forests can be protected best once the duties are assigned to local people.
Experts have realized that it is necessary to rely on the community to protect forests.
However, a problem still exists in the legal status of the communities that take the responsibility of protecting forests and in the unreasonable policies to support therm.
Meanwhile, Dr. Nguyen Nghia Bien, Director of Institute of Forest Inventory and Planning noted that the communities assigned to protect forests are mostly ethnic minority people, while the forests allocated to people are mostly the poor forests in remote areas with bad infrastructure conditions. This explains the limited income from forests, thus leading to the decrease in the community forests.
Dr. Pham Xuan Phuong from the Ministry of Agriculture and Rural Development said in many localities, people still have not received the money for the forest development. Therefore, they are not encouraged enough to continue the work of developing the forests.
The Institute of Forest Inventory and Planning is implementing the project on strengthening the community forestry in Vietnam. Bien emphasized the necessity of mobilizing the society's resources for the forest protection and development.
Hoang Phi