To vote a football team with many internal changes and ranks in V.League 2011, it's sure that is V. Ninh Binh, from non-united team to dismissal of the coach for 1 week and re-invite. Yet, V. Ninh Binh overcame all problems to create great success…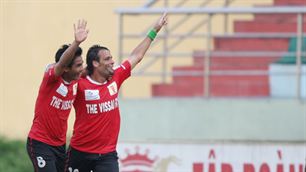 This success is great contribution of attacker Gustavo (right)
STORY OF "ONE MAN OF DIFFERENCE"… 
Since participation in V. League, V. Ninh Binh has been famous for abundant money and a generous master. Thus, it is not surprised that V. Ninh Binh has ambition to become a champion. Its formula of "6 foreigners + 5 Vietnamese" of Hoa Lu ancient capital's football team is enough to threaten any competitors in V. League. But, upon playing football, "problems" of a football team of many strong characters are understood and felt. And V. Ninh Binh is caught in its trap.
These strong characters of the football players make them think that they are stars and play at their discretion. Even, the foreign players suddenly criticizing one another in the match were popular to V. Ninh Binh. For a long time, V. Ninh Binh plays without its own color and it can be compared 11 positions in the field as robots playing football. In this situation, a talent coach as Van Sy is difficult to control the situation in stead of dreams to obtain a success.
Besides skills and qualifications, management of the football players in V. Ninh Binh is not close.
… TO STORY OF GUSTAVO AND COACH VAN SY
Gustavo is known as a playboy by V. Ninh Binh. His remarkable feature is to enjoy elegant pleasures outside the field and lazy to train skills and qualifications. But strangely, this heavy man became a hero of V. Ninh Binh.
At the end of the football season 2011, Gustavo seemed more "tamed" and always played football with winning desire. At this time, his image may be considered as a typical person for the whole football team. It was thought that Gustavo (as well as V.NB) become useless and failed but he was revived. The first success of Gustavo in V.League 2011 in Lach Tray Stadium marked re-appearance of this attacker.
This was a historical win of V. Ninh Binh because it was "6-point match", greatly affecting psychology of Coach Nguyen Van Sy and his players. Since that, V. Ninh Binh has entered the matches as warriors and when V. League ended, V. Ninh Binh won 5 consecutive matches and was ranked fourth.
Success of V. Ninh Binh is contribution of Coach Nguyen Van Sy. Ever believed but unregrettably dismissed 1 week later, Van Sy was invited again as a Coach and he was happy to agree. He ignored his pride for common purpose. Moreover, for 1 week of dismissing him, Ninh Binh football managers understood that noone is as suitable as Van Sy. He returned when V. Ninh Binh started to be disciplined. After failure, they knew how to maintain and respect things lost. "Love" between Coach Van Sy and V. Ninh Binh aimed to positive orientation.
V. League 2011 ended and V. Ninh Binh forgot bitter defeats to hope the next football season. V. Ninh Binh was matured and became a united team. Gustavo and Coach Van Sy – who ignored their self and pride for the common purpose were deserving of praises after a successful football season of Hoa Lu ancient capital's football team.
Impression of Gustavo 
Because of indulging in pleasures, attacker Gustavo was fined by the Club as a reserve football player. Yet, due to lack of the players, Coach Van Sy forced to agree on his playing football in the field. This reluctant choice suddenly became a saver of V. Ninh Binh. Gustavo was shining. Through 16 matches and 1,222 minutes, Gustavo scored 14 goals and obtain the best scorer of V. League 2011. He was the most scorer of Hoa Lu ancient capital's football team (37.8%).
Fan's heart 
This year's football season can be considered as a "failure" season for V. Ninh Binh regarding its fans. The fans did not regularly see football matches in Ninh Binh Stadium as much as the previous football season. However, witnessing efforts and determinations of Coach Van Sy and his players, many fans felt sympathetic for the football team. Even, in the final match between V. Ninh Binh and HAGL, a group of about 50 fans expressed their love for the football team by demonstration for 2 days to Nui Street to cheer. Maybe for appreciating the fans' love, V. Ninh Binh made efforts to play and obtain the spectacular win in the score of 3-2. This win helped V. Ninh Binh be ranked fourth.
"Master" Truong to spend money recklessly! 
Recognizing the urgent situation of the football team, "Master" Truong made a daring decision but the people has considered being a lucid decision. He decided to disburse all outstanding amounts for 2/3 players of V.Ninh Binh. In fact, these amounts will be paid at the end of football season but to encourage them, "Master" Truong disbursed in 2/3 of the football season. Besides, to excite Coach Van Sy and his football players, "Master" Truong was generous to increase the bonus for a winning match up to VND 1 billion. This is a medicine to have active impacts and create excitation of V. Ninh Binh in this phase.
Headache for Nhu Thanh
According to information of V. Ninh Binh leaders, in the past football season, midfield player disappeared twice. His absence left difficulties for Hoa Lu Football Team because he not only was an important player in the tactical system of Coach Van Sy but also greatly affected spirits of the playfellow (Nhu Thanh is a team leader of V. Ninh Binh). However, absence of Nhu Thanh helped Coach Van Sy select another midfield player Hoang Vissai. Coach Van Sy assigned Hoang Vissai as a team leader and this Nigerian player repaid by a convinced manner.