Over the last 20 years Vietnam has signed some US$63 billion in overseas development assistance (ODA), with about two-thirds used for infrastructure projects. Apart from the ample source of finance, the country is also in dire need of expertise in project management aligned to international conventions as required by international donors for Vietnam.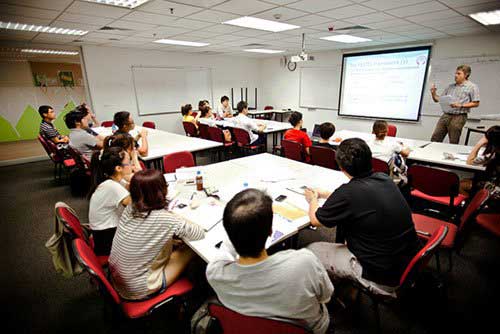 A class of Master of Project Management at RMIT.
World Bank Country Director for Vietnam Victoria Kwakwa, speaking at the 20th anniversary celebration of cooperation with the country in Hanoi on October 17, said the socioeconomic progress the country had made partly with ODA over the last two decades was remarkable. However, the partnerships and financing sources were changing, she said, adding that the experience of other middle-income countries showed that ODA partnerships would need to deepen their focus on ideas, knowledge, and solutions.
Speaking at the same event, the Japanese ambassador to Vietnam, Hiroshi Fukada, said Japan was willing to help Vietnam tackle its challenges by utilizing ODA that would include technical cooperation in economic restructuring and human resource development in addition to infrastructure development. Japan is the single largest donor to Vietnam, with some US$20 billion.
Developing these human resources will be an important part of ensuring the continuing growth of the Vietnamese economy by making the best use of funds earmarked for significant projects, according to an academic from RMIT University.
Ms. Melina Silva, Master of Project Management program coordinator from RMIT's Center of Commerce and Management, said a critical area of skill shortage is in project management, and yet few people in Vietnam seek out formal qualifications in this area. One of the problems, she said, was that many people lack a strongly developed understanding of what 'project management' means as a professional discipline.
"Many often think of project management as being just about getting a building finished on time. Actually it is a great deal more than that, and it is relevant to all sectors of business, government and even the NGO sector," Ms. Silva said.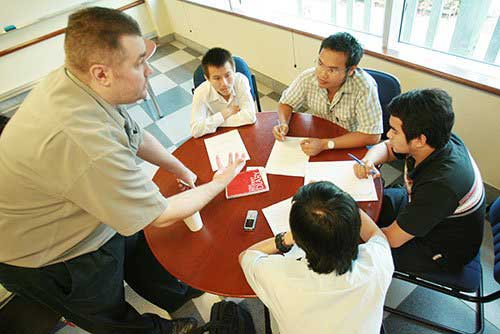 Team working and discussions – Photos: Courtesy of RMIT.
The ramifications of not having sufficiently-developed systems and personnel were underlined recently by a leading Vietnamese economist who warned of the increasing number of 'white elephant' projects in the country.
The chief of the Investment Policy Department under the Central Institute for Economic Management, at a recent forum organized by the institute, said poor assessment, excessively increased investment costs, and poor maintenance as well as operational protocol were several causes of the stockpile of futile projects in Vietnam.
"Any important project needs to be managed well if it is going to succeed and deliver the results expected," said RMIT's Master of Project Management program coordinator.
"This is just as true in the manufacturing industry, service industry, charitable endeavors, government service delivery and any other field in which time, cost and performance matter."
RMIT's Master of Project Management program is designed to provide students with the knowledge and skills that can be applied across any industry. Most people undertaking the program are working professionals, which is why the flexible, part-time schedule is important.
According to RMIT, one of the keys to success in teaching effective project management is to have the right blend of theoretical knowledge and hands-on industry expertise available to students, most of whom are experienced professionals themselves. The Australian-invested university seeks to achieve this through the support of senior academic staff members who have significant industry experience in fields including quality assurance, civil engineering, procurement, construction, information and communication technology, and other important fields where on-time delivery of quality projects is critical.
Nguyen Diem Ha Duong is a student in the program and has gained instantly helpful knowledge that she applies in her pharmaceuticals industry job. "There are some days when I stand in the boardroom presenting just what I learnt at school over the weekend," she said.
"I am particularly interested in the planning, budgeting, risk management and teamwork parts of this course. All of my projects are about planning, executing and monitoring clinical trials to test drug efficacy and safety."
Ms. Silva said it was starting to become better understood in certain areas that the difference between success and failure for any important project can come down to whether or not the people running it have a sound understanding of the key principles and techniques of effective project management.
"A knowledge of 'best practice' international project management principles is going to position many individuals for leadership positions in their organizations – or help them to keep those positions – because it's going to be increasingly recognized that project success is not something that can be left to chance or luck anymore," she said.
Source: SGT