As many as 75% Vietnamese students do not understand the majors that they are choosing to study at universities, according to a survey released on December 10 in HCM City.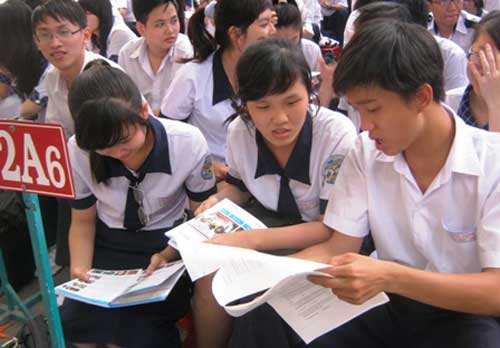 Trung Vuong High School students in a counseling session.
These statistics were announced by the deputy head of the Centre of Forecasting Manpower Needs and Labour Market Information, Tran Anh Tuan, during a seminar about school counseling held by the HCM City Department of Education and Training.
The survey also showed that only 5% have proper understanding of their future career paths, while the other 20% have only a vague understanding.
About one million students participated in the annual university entrance exams, but only 400,000 students were accepted. Because of weak career counseling, failing students randomly choose majors and schools, without thinking about their abilities or realistic needs of the job market.
Some students are attracted by popular majors, such as finance and banking or business administration while some others are strongly influenced by their parents.
Huong, a business major graduate, are now doing her job disinterestedly after studying for five years at university. She said, "I wanted to study pre-school pedagogy because I like children but my parents disagreed. They said businesspeople look really cool and have high salaries but now I know I'm not suitable for this job at all."
According to Huong, due to pressure from family and the daily expenses, she just couldn't throw everything away to start anew.
In HCM City, among 80% of the graduates who can found a work place, 50% have to do different jobs from their chosen majors.
"We are lacking skillful work force for industries which play important roles in the city's development process, but having an excess elsewhere. Secondary school students should already have ideas about their future so they can decide to pursuit academic studies or vocational school, Tuan said.
He urged schools to give clearer information such as which careers are needed for the local economic development to their students.
Source: DTriNews