Learning in an international education environment from the high schools helps students train necessary skills and thoughts as well as English proficiency to adapt to the graduate program in the world.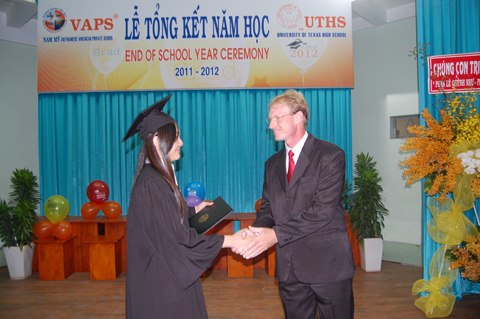 Bilingual High School Program (BHSP) is a program of Vietnam's Ministry of Education and Training and taught in English. It is applied to main subjects: American Literature, Mathematics, Science (Physics, Chemistry and Biology) and Social Studies (World History and Geography). Thus, upon graduating this program, students will have a good command of English to study international education programs at higher levels.
This model helps students familiarize method of dynamic study, modern thought and develop all necessary skills such as presentation, team-work and logic thought … The program is compiled in accordance with Vietnam's Ministry of Education and Training. Besides training knowledge about the world's culture, this model ensures nature and tradition of Vietnamese culture for students.
Preeminence of this model is recognition of academic results transited between Vietnam's program and America's program. Students have two options to examine and obtain high school diploma of America or Vietnam; or transit to the high schools in America or other countries from grade 11 to complete the high school education and obtain the diploma in America.
Students of Vietnamese American Private School (VAPS) are awarded American high school diplomas.
This helps save time an tuition to the maximum for students who want to study overseas or study international programs in Vietnam, from high schools to the universities. At present, in Vietnam, Vietnamese American Private School is one of the school pioneering in applying bilingual education model in two form of diploma.
Attending this program in VAPS, students upon transiting to any high school in America will be admitted without re-studying or forcing to study ESL classes. In addition, upon graduation, the students will be issued with high school diploma by Texas – UTHS under University of Texas – Austin. This diploma is admitted in America's renowned universities such as University of California Berkley, University of Southern California, University of Colorado, University of Virginia, Pennsylvania State University, University of Texas at Arlington and Texas Tech University…
At present, after being licensed by the Ministry of Education and Training, the school completed 2 first courses in this model. As a result, 100% of the students graduated America's high schools.
100% of the students in 2 courses graduated America's high schools. Vietnamese American Private School (VAPS) is located at 23 Road 1011, Pham The Hien, Ward 5, District 8, HCMC. Tel: 3850 7632 – Ext 0 or 40 and website: www.nammy.edu.vn
Dr. Tran Van Hien, Houston University – Clear Lake, Texas, America, Chairperson of the Consulting Council of Vietnamese American Private School/VAPS said that percent of the students graduating high schools in America is a unique achievement that I have ever seen, even students in a high school in America are difficult to obtain 100% passing the graduation examination. This is a significant success for an education establishment outside America, especially in Vietnam, where English is not a orthodox language".