The innovation in educational assessments will be a breakthrough for education renewal, said Nguyen Minh Hien, Deputy Minister of Education and Training, during an online discussion.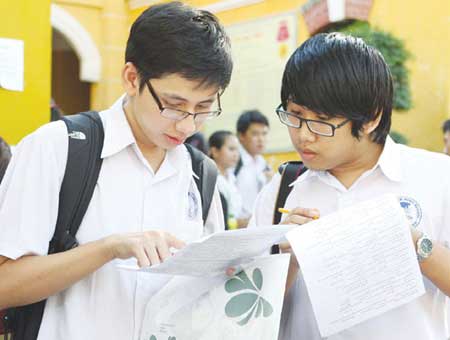 Students compare notes after finishing an English test at HCM City's Trung Vuong High School. The reform of education assessments will mark a breakthrough for education renewal. 
Deputy Minister Hien said the innovation in education assessments will include new examination methods throughout the entire education system and new quality evaluations in provinces and training units.
He said such innovation will, in return, have effects on teaching methods.
"Changes in examination methods will result in changes in teaching and learning methods," he said.
The current education assessments still have many shortcomings, the deputy minister added, saying that it forces students to remember knowledge, rather than practicing.
"For instance, a test given back with only the grade will not tell students what knowledge they lack and what they should improve. The goal of the renovation is that students will know what they should improve," he said.
Regarding the new method for university entrance exams, Dinh Xuan Khoa, Head of Vinh University in central Vinh City, said such methods will be of practical benefit for both students and universities.
Under the plan being drafted by the Ministry of Education and Training, universities would themselves decide whether to organise entrance exams, or they would enroll students after considering their learning records.
"The reform method will save us from VND70 to 100 billion (up to US$4.7 million)," Khoa said.
Van Nhu Cuong, headmaster of Luong The Vinh Private High School, said such methods should have been applied earlier.
Many participants at the discussion also expressed their welcoming open tests, saying that such tests will encourage students to improve their comprehensive skills.
Regarding the issue of extra-classes, Deputy Minister Hien confirmed extra-class will still exist due to demand from students. However, he said this will not be pressure on students.
He added that open exams, along with changes in training methods, will gradually eliminate useless extra-classes.
Van Nhu Cuong said extra-classes have their own positive impacts, but useless extra-classes must be eliminated and useful ones encouraged.
He said a survey needed to be carried out to determine the demand for extra-classes and who wants them.
Once students acquired all necessary knowledge at school, they won't have the need to have extra-classes, Cuong said.
Last month, the Communist Party of Viet Nam Central Committee adopted a resolution on the fundamental and comprehensive reform of education and training.
The resolution covers a wide range of renovations relating to all educational activities. The key measures cover education management, developing teaching staff and renovating testing and assessment methods.
Renovation of testing and assessments is considered a breakthrough measure because it will control and change all other educational activities.
It will not be costly, but is expected to help change both teaching and learning methods for teachers and students, said Minister of Education and Training Pham Vu Luan.
SEAMAO meeting
Minister of Education and Training Pham Vu Luan, who is also the elected President of the South East Asia Ministers of Education Organizations (SEAMAO), yesterday met with Cambodian Minister of Education, Youth and Sport Hang Chuan Naron.
As the president of SEAMAO, Minister Luan requested that Cambodia boost co-operation with the organisation, in an attempt to raise the quality of education and human resources training.
Minister Hang Chuan Naron thanked SEAMAO for helping Cambodia improve its education sector, and has gladly accepted an invitation to attend the 50th anniversary meeting of the organisation.
The two ministers also shared experiences in education management in Viet Nam and Cambodia, and discussed plans to foster mutual co-operation in education and training.
They also agreed on activities among each country's overseas students. It was further announced that the ministries will complete content to allow for the signing of a co-operation agreement.
Source: VNS