Vietnam has been consistent with its policy on teaching many different languages at general schools. However, it meets a lot of big difficulties that hinder the program implementation.
98 percent of students prefer learning English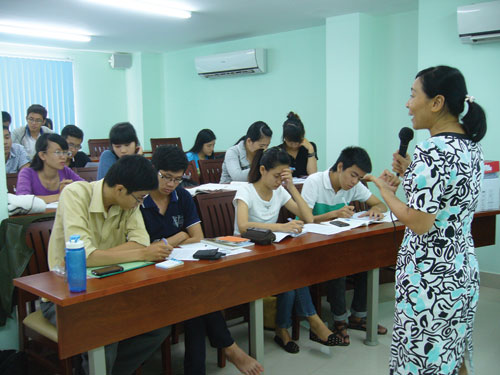 Under the current regulations, the foreign languages taught at general schools are English and some other languages including French, German, Japanese, Chinese and Russian.
However, according to the Ministry of Education and Training (MOET), 98 percent of students want to learn English.
Vu Thi Tu Anh, a senior official of the ministry, admitted that the ministry is encountering a lot of difficulties when trying to maintain the teaching of Russian, Japanese, French and Korean at general schools.
The other foreign languages have been accepted by students at universities and junior colleges, but they are still less "competitive" than English.
Also according to Anh, general schools, except the schools for the gifted, only teach English to satisfy the demand of the majority of students because of the problem with the teaching staff.
Meanwhile, Nguyen Hoai Chuong, Deputy Director of the HCM City Education and Training Department, emphasized the necessity of teaching many foreign languages, which allows to diversify languages in the context of the international integration.
Chuong said that in order to persuade students to learn other foreign languages, MOET needs to change the current regulations and then improve the teaching staff.
In HCM City, students are allowed to learn second foreign languages when they enter the 10th grade. However, Chuong thinks that second foreign languages should be taught to 6th graders already.
Nguyen Hoang, Deputy Director of the Nghe An provincial Education and Training Department, believes that Vietnamese students only want to learn English because they cannot see the benefit of other foreign languages. University students, like general school students, don't want to learn other foreign languages, if they are not the students of foreign language majoring schools.
The officials from the Ben Tre and Khanh Hoa provinces also said it is nearly impossible to teach more foreign languages to students because of the lack of money, material facilities and teaching staff.
English teachers cannot meet requirements
Though English is the choice of 98 percent of students and Vietnam has abundant English teachers, the percentages of "standardized teachers" who can meet the requirements set by MOET, remain modest.
A recent survey by MOET has found that 75 percent of primary school and 90 percent of high school teachers did not meet the standards.
Anh has attributed the low qualification of English teachers to the low pay and hard work. At some schools, English teachers have 40 teaching hours a week, much higher than the allowed number of 18 hours.
Chuong admitted that only a small percentage of English teachers in HCM City can meet the requirements. A lot of students with C-level English certificate cannot listen, speak or write.
According to Anh, a national foreign language teaching program has been implemented since 2011 which partially aims to upgrade the teachers' capability. 600 teachers and 670 management officers have been trained over the last three years under the program.
It is expected that the national program would benefit 80,000 teachers and 20 million students after 10 years.
T. Mai