Overseas Vietnamese, wherever they live in the world, have been learning Vietnamese language everyday to uphold and promote the national culture identity. However, they meet a lot of difficulties in the study.
Vietnamese need to know Vietnamese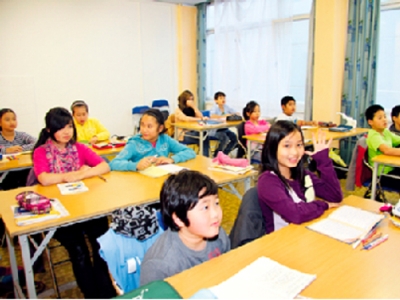 When deciding to leave Vietnam with her family to the US, Vu Minh Hien, who now works for the World Bank in Washington DC, felt worried that her two daughters, Quynh Trang, 17, and Minh Khue, 8, may "forget" Vietnamese.
The two girls have to speak English at school when communicating with friends and teachers. The problem is that they spend more time at school than at home, which means that they speak English more than Vietnamese. This means that the two girls may forget the mother tongue.
Hien, on one hand, encouraged her daughters to communicate more with friends to improve their English and overcome cultural differences to get adapted to the new environment, on the other hand, decided that the girls have to speak Vietnamese at home.
"Our family members have to communicate with each other in Vietnamese," Hien said. "Though my husband and the second daughter had to practice English hard on the first days in the US, they don't forget Vietnamese."
"No English word is permitted at home," HIen added.
Thanh Phuong, a reporter of the Vietnam Television in Paris, France, also said she always asks the son, Armand, to speak Vietnamese with her. Phuong's husband is French, and they communicate in French. However, Phuong always use Vietnamese in speaking with the boy.
Armand, now four years old, is a bilingual since he was born. "At first, my husband felt uncomfortable when my son and I spoke in Vietnamese and he did not understand the conversation. However, he later decided to learn Vietnamese from the son," Phuong said.
A lot of barriers for Vietnamese learning overseas
According to Dr. Nguyen The Ky, Deputy Head of the Central Propaganda Committee, though there has been no large-scale survey on the Vietnamese learning in the overseas Vietnamese communities, he still can say for sure that Vietnamese have been trying to teach Vietnamese to their children and grandchildren.
However, Ky also said the Vietnamese second, third and subsequent generations now have to decide whether to learn Vietnamese and Vietnamese culture.
They need to get adapted to the living environment in the host countries to lead good lives. If they cannot speak foreign languages, they would lag behind and put difficulties for themselves.
As a result, a lot of Vietnamese would forget Vietnamese words and would not be able to speak Vietnamese in the future, even though they don't want this.
Dr. Nguyen Thi Hoang Yen, Deputy Head of the Vietnam Education Science Institute, noted that it is now very difficult to teach Vietnamese to overseas Vietnamese due to the unfavorable environment.
She said that the documents used to teach Vietnamese are not good enough. At most of the Vietnamese centers, there are not the documents on teaching Vietnamese as second language. The Vietnamese centers and classes have been set up by the Vietnamese communities themselves, while the documents have been collected from different sources.
GD&TD