Students who are admitted to the world's top universities have opportunities to attend free-of-charge training course and receive a prize worth USD 20,000.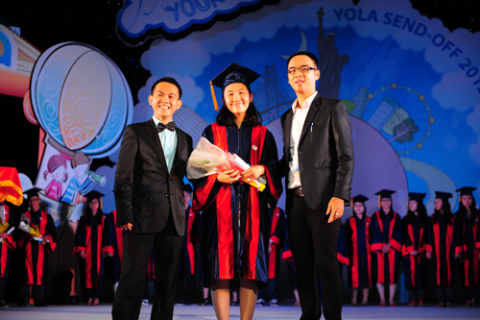 Total value of the prizes up to VND 400 million is awarded by Yola Institute – the premier higher education consulting and preparation school – to the excellent overseas students through Young Leaders Program, including domestic and overseas excellent students admitted to the world's top universities.
The Program is to encourage the overseas students and create conditions to improve knowledge and skills of leadership and develop necessary social network to make contributions to the community.
Then, each student winning a prize will receive an amount of USD 1,000 – 2,000; support of Yola during overseas study; training and vocational orientation.
Deadline for submitting documents is on 22 May. The students participating in the Program this year must obtain excellent academic achievements and be admitted to the world's top universities of USA or UK in 2013-2014. The students must show thinking and creative capacity and leadership skills through an essay and self-introduction video.
Yola 100 is a prize to help Vietnamese overseas students to connect and succeed.
The board of examiners include former excellent overseas students who succeed in different fields in Vietnam and USA, those are Van Dinh Hong Vu, MA in business administration and MA in education of Stanford University, strategic administration consultant of Booz&Company Group and founder of VietSeed organization; Nguyen Huong Thao, Doctorial candidate of Massachusetts- MIT Technology Academy and Nguyen Chi Hieu, Dr in Economics of Stanford University, HR director of Yola Institute.
Yola 100 prize is established by Yola Foundation, a social organization of Yola Institute with a mission to develop talents and expand education opportunities for Vietnamese students.
For details, please access to website:www.yola.vn.
Mr. Pham Anh Khoa, Managing Director of Yola Institute and Director of Yola Foundation, former student of Bates University (USA) said that this prize was a project prepared for a long time. Through his experiences in overseas study and training and consultancy for over 5,000 Vietnamese students to pursue overseas study dreams, he found that besides excellent academic achievements, the students must have a chance to connect with the preceding generations and conditions to contact challenging working environment and train leadership skills to succeed in international and domestic environment.
Founded in 2009, Yola Institute has 5 education establishments and over 100 teachers to train thousands of students from 300 high schools nationwide. Yola's students are admitted to over 100 top universities in USA, Australia and UK.