Coming back at the right time and saving the whole season which seemed to be a failure – it is the story of bad child to become hero.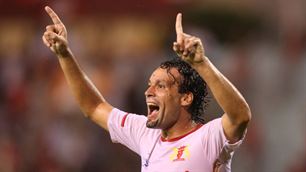 Gustavo shined just in time to help V.NB successfully stay with the game.
Being the star, the soul and the hope of the home team, all such talents have bad habits, which made the team full of hardships. When facing failure, especially at the risk of relegation, they come back at the right time and save the whole season which seemed to be a failure. This is the story of bad child to become hero, a problem that every football team is facing.
Aniekan's story
There are many myths about Aniekan from Vicem Hai Phong, most of which are bad ones. Everyone is familiar with the undisciplined habits, flexi time, and unprofessional behaviors such as fighting with his mates. Even in a training, the Nigerian midfielder had bad words to the home spectators and was about to fight. It is said that V.HP planned to terminate the contract with Aniekan in mid season
Aniekan helped V.HP gain 3 valuable points in BD's field.
When Leandro left, many people expected Ainekan to lead V.HP to be stronger and more united. However, the whole season went by in disappointments and this may be the worst season of Nigerian midfielder ever since he came to Vietnam as player. There is no longer aggressive competition, sharp passing and beautiful goals. Aineken was behind his own shadow.
At the end of round 23 and 1,630 minutes, an attacking midfielder like him has scored no goal.
Right at the moment when all HP spectators and comrades were most disappointed about Aniekan and V.HP determined to play at Footbal Leauge First Division, he shined. His first goal (maybe the only goal this season) helped V.HP win 1-0 at Binh Duong field and save V.HP from delegation. Of course, he then became the hero irrespective of being called bad child earlier.
"Clown", "Crazy boy" Gustavo
V.League teams now have many "savage horses" but no one gives more emotions than Gustavo – the player with nick name "Clown", "Crazy boy", etc. He irritated the whole team with childish behavior, fond of picking a quarrel with comrades and management board. Finally, V.NB applied disciplinary measure to Gustavo in spite of no more solutions on him. Then this striker were absent in most of the matches in the first half of the season and about to be terminated.
Learning valuable lessons, Gustavo had no other way but to change to survive. Luckily, Coach Van Sy created chance for him and now he is the most efficient striker in V.League with 12 goals in 14 times on court. In the last 4 matches, Gustavo really blossomed and became the most dangerous hunter in V.League with 6 goals and number one striker in the club.
With the strongest come back of "savage horse", V.NB successfully stays with the game. Up to now, it is Gustavo who brings joy to V.NB and their spectators with goals as well as unique ways to celebrate the goals. The team managers feel regret as V.NB could be more successful if Gustavo's top form came earlier.
Exception for Danny

In DT.LA, Danny David is the most important player but there are many times when his relationship with the team sees many obstacles, sometimes seemed to freeze. It was when this striker went back to Tanzania to take care of his ill father but not came back. The punishment cards, especially red cards and rumors in transfer window highly affected the relationship between David and DT.LA.
Ignoring the disagreements and misunderstandings, David contributed much to DT.LA in their bad time when the Long An team was considered the number 1 candidate for delegation. In the key match with HN.ACB, David shined with 2 goals to contribute to the 4-1 win and create advantages for the delegation plan. Before that point, he played amazingly with good passing to his comrades and he himself scored an equalizer to help DT.LA defeat HAGL to create a chance for survival.
V.Leaguage has more and more bad child who suddenly becomes heroes. Ainekan, Gustavo and Danny are qualified players but have different troubles and create difficulties for their team. Overcoming many disagreement and discarding their ego, they shined to create a light for their club. At this point, no one mentions their mistakes, just to care about them later.
Source: bongdaplus.vn