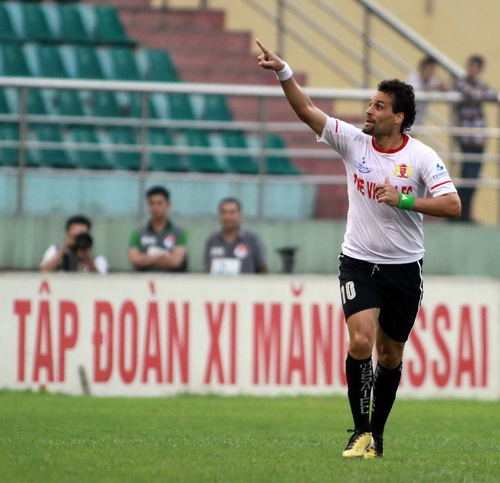 The dispute in Vissai Ninh Binh vs. SLNA
The dispute in Vissai Ninh Binh vs. SLNA. In the afternoon of 6 August, before the match with Nghe team, some people jumped to conclusion on an early championship for SLNA if Ninh Binh team lost in round 24.
Yet the progress of Saturday match showed different result. With no sign of being stunned by the candidate champion for this season, the Vissai Ninh Binh confidently entered the match and played a wonderful game in front of spectators.
After 20 minutes exploring, both teams started to create attacks. In the first extra time, from a situation that Gustavo let out the ball for Morta to flip the all to shoot to the away team's net and break the score to lead 1-0 for the Vissai Ninh Binh.
In the 65' of the second half, striker Gustavo once again achieve a feed to score himself a goal. Being consecutively lost, the away team were forced to attack more to find the goal. Being too hasty to break back and loose in defense, the away team suffered from another score in the 78' starting from Dinh Hoang Max's attack.
Being led by 3 goals, SLNA tried to put more pressures on the home team to find the equalizer, yet the superb performance of goal keeper Dinh Hoang La gave the away team no chance. Only at the second minutes extra time of second half, the away team find an honor score to leave the ground with final score 3-1 thanks to Ninh Binh team's loose defense.
After this loss, SLNA only has 45 points and being under high pressure when Hanoi T&T are getting closer with 43 points but has one more match to go. For the home team, they climb up to the 7th spot with 33 points after 24 matches. With two pleasant upcoming match, Ninh Binh team has the reason to dream about a higher spot on the ranking. Coach Nguyen Van Sy and his team finished a successful season with 2 round earlier relegation.
Source: baobinhminh.org.vn