A loss 1 goal to 3 is really a shock to SLNA. When HN.T&T fight back to win over N.SG, the distance is shortened to 3 points.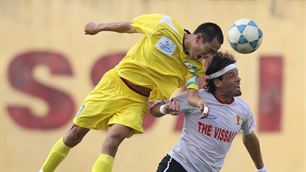 Vissal Ninh Binh vs Song Lam Nghe An: 3-1
After carefully observing the way that SHB.DN, HA.GL and B.BD in turn stop the amazing advance of SLNA, Coach Nguyen Van Sy decided to use solid strategy to rigid team like SLNA. With Viet Thang and Nhu Thanh kept on reserve, Coach Van Sy paid more attention on the arrangement of thick midfielders to block the opponent. The midfielder couples Hoang Dam, Mota always play aggressively when in both wings, Tien Thanh and Hoang Max also rounded up the opponent.
It is the unpleasant strategy that makes the away team uncomfortable to play the match. When binding SLNA, V.NB performed keenly on the attacks. Gustavo beautifully use his chest to help Mota devilishly kick on the away corner to take the lead for V.NB (45'+1), being the turning point for the home team to continue playing and making their opponent fall into their trap.
When SLNA couldn't find a way for their attacks, "super naughty" Gustavo passed through Huy Hoang before walking over goalkeeper Quoc Cuong to double the distance for the home team. The more V.NB played, the better they were when they had the third goal after Gustavo had paved the path for Hoang Max to easily control the ball.
Fire under Nghe players
When Gustavo increased the score to 2-0 for V.NB, Coach Huu Thang stood silently. All understood that a loss was inevitable for SLNA. In an afternoon when the opponents closely mark them and they couldn't prove dribbles at small distances, Nghe team was forced to use hanging ball dribbling, which accidentally helped tall goalkeeper Hoang La The show his ability to catch the ball on air and handle all shootings from opponents.
In addition, at the moments when V.NB's defense was loose, the away team could have scored earlier. However, that Fagan missed 2 valuable chances in face-to-face attacks to goal keeper Hoang La The pushed his comrades in difficulties. Every attack was rounded up by opponents, which made Trong Hoang, Hong Viet and then Quang Tinh not perform keen shoots. Disconnection between the midfielders and strikers really brought SLNA into big troubles.
Facing the VNB's wall, even knowing that N.SG was leading 2 goals over competitive opponent as HN.T&T, SLNA couldn't improve the situations. The late score y Quang Tinh (90'+2) only save Nghe team's honour.
A loss 1 goal to 3 is really a shock to SLNA. When HN.T&T fight back to win over N.SG, the distance is shortened to 3 points.
Goals
V.NH: Mota (45'+1), Gustavo (66'), Hoang Max (78')
SLNA: Quang Tinh (90'+2)
Match

V.NB: Hoang La, Van Duyet, Thanh Tung, Hoang Vissai, Phong Hoa (Van Thong, 42'), Hoang Dam (Okhuti 65'), Mota, Tien Thanh, Hoang Max, Van Thanh, Gustavo (Viet Thang, 82').
SLNA: Quoc Cuong, Dinh Dong (Van Hoan, 46'), Huy Hoang, Nguyen Hoang Helio, Ngoc Manh, Van Binh (Hoang Thinh, 74'), Ansah, Trong Hoang, Hong Viet (Quang Tinh, 64'), Hodges, Fagan.
Coach Nguyen Huu Thang "V.NB played so violently that made us uncontrolled"
"I have no comment on the score but our opponent played so violently at many points of the match and interupted it, which made us hard to concentrate. For example, the point when Dinh Dong was out because of being hit hard by Dinh Hoang Max's shoes which made his head bleed. It was the home team's violent way of playing that affected SLNA a lot.
Many players, both domestic and foreign, of SLNA had to avoid the attack from opponents and felt hard to coordinate with one another in best way. Fagan and Hodges were also attracted to such violent way of playing, lost their confidence and always avoided spiteful attacks from opponents. I'm so sad about it. If only the referee had been stricter on the punishment, V.NB couldn't have played so violently. We lost our advantage to win the championship and our upcoming path is so shaky."