(TT&VH) – Coach Nguyen Huu Thang didn't sit down most of the time in the first half and in the first minutes of the second half, ever since Gustavo scored to take the lead 2 games to nil, he suddenly sit back on his hauches and silently saw the match go by in vain. After the match, Huu Thang was too disappoint to answer the press conference. He and his team stayed at the ground for such a long time to explain about the loss. It seemed that Nghe team didn't believe that they were suffering a turbo loss.
It can't be denied that V.NB are on top form and playing away game is always riskier than home game. Yet theoretically this reason is not strong enough to prevent a ambitious team to pursue for championship. What a pity that the most potential candidate for V-League 2011 champion showed a shocking weak form.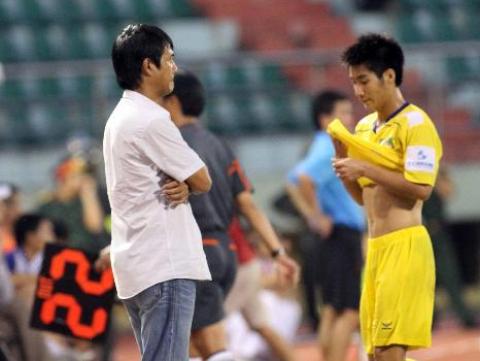 If losing V-League championship this season, SLNA can only blame themselves. Photo: VSI.
Scoring goals is a difficult problem for SLNA now. In the 73', Ngoc Manh had a chance to face to face with goal keeper Hoang La but failed. We can feel pity for Ngoc Manh as he is a defender. But it is hard to understand why Fagan, the striker with the responsibility to score a goal after Kavin had been injured had similar performance to Ngoc Manh although he had 2 chances to face to face with Hoang La.
When the strikers couldn't complete their task, Nghe team's defenders felt more pressure. Let's look back at how SLNA's famous defense perform last afternoon.
The opening score by V.NB was facilitated by goal keeper Quoc Cuong. For the second goal, Huy Hoang couldn't stop Gustavo and the Brazilian striker passed through and kick to score a goal. Typically, the weaknesses of SLNA's defenders were demonstrated on the situation that led to the third goal.
From the home part, Hoang La kicked the goal, Helio (SLNA) jumped to break the ball but failed and the ball fell to the position of Gustavo. With a moment controlling the ball, the Brazilian striker passed the ball to Hoang Max, V.NB's naturalized player easily flipped the ball to Quoc Cuong's net. In general, after 4 times of ball touching, the score was done.
A potential team pursuing the championship doesn't need to win all matches. However, such team must know how to score a goal and defend. Looking back at last match, was it the image of the upcoming champion?
Source: thethaovanhoa.vn