Teacher Vo Trong Phuc appeared in Vietnam's Got Talent 2011. Trong Phuc has a handsome face and strange and rare singing voice …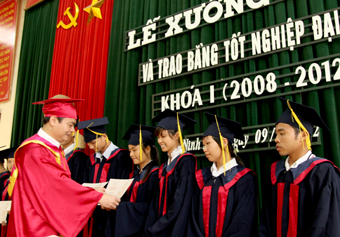 Vo Trong Phuc is a teacher of English of Elite International English School.
Teacher Phan Hong Anh – Second Winner of Imiss Thang Long 2010 – graduated from the high-quality class – Math – Informatics Faculty – Hanoi Univeristy of Pedagogy in May 2012.
She was born in 1991 and has become a center of attention in the Creative Festival of Hanoi – Amsterdam School.
Hotgirl Holly Ha, real name of Thu Ha, is a beautiful and talent girl in a role as a trainer of artistic gymnastics.
Holly Ha is a familiar face in the referee board of the artistic gymnastics competitions. It is regrettable for the golden girl of Vietnam's artistic gymnastics who left her career because achievements Holly Ha obtained are admired.
Le Thi Le Vy is an impressive girl in The Voice. Le Vy likes children very much. At present, she is a teacher of music in the Primary School No.2, Phu Bai, Huong Thuy Town, Thua Thien Hue Province.
Le Vy was one of the singers who overcame "Hidden face" round in The Voice 2012.
With his bass and emotional voice, MC Le Anh is loved by millions of the TV viewers.
Hoang Anh Duy is a lecturer of Hanoi Foreign Trade University. He won the first prize of "Television MC 2009. He studied abroad for Master course.
Anh Duy was a student of Business Management Faculty, Hanoi Foreign Trade University. He is a potential lecturer of this famous school. He likes arts and feels natural association with a role as MC.