In principle, all Vietnamese students are equal in enjoying the state's education investment policies. However, in fact, private school students have to pay very high tuitions and school fees.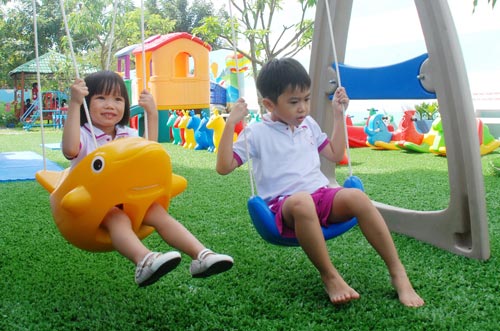 In the 2013-2014 academic year, Nguyen Van An in Tan Binh district in HCM City got 35 marks from the high school entrance exams, which was not enough for him to enroll in state owned schools.
An's parents then decided to enroll their son in a people founded school, accepting to pay higher tuitions, to help him fulfill the dream of obtaining secondary education.
Nguyen Thi Nguyet, An's mother, complained that An's study is very costly. The tuition alone costs her VND3 million a month. With the total monthly income of VND10 million of the whole family, An cannot save money after paying for food and the two children's studies.
Thousands of students have to attend the high school entrance exams every year to scramble for the limited number of seats at state owned schools. The students with the highest marks can go to state owned schools which require lower tuitions. The others would have to pay more money to have secondary education.
Vietnam not only lacks high schools, but nursery schools and primary schools as well. A lot of children from poor families cannot enter state owned schools. They have to enroll in private schools which require sky high tuitions, or go to household run classes which require lower tuitions but provide low education quality.
As private schools don't receive the financial support from the state, they charge high fees on students to get money to upgrade the material facilities and pay teachers.
According to Le Thi Kim Van, former Headmaster of the Hoa Lu Nursery School in district 1, HCM City, a state owned school child receives VND3.5-7 million a year from the state, which means that a school has VND3-4 billion from the state budget to pay teachers and cover basic needs. The parents of the schools only have to pay for their children's meals.
Meanwhile, the children of private schools have to pay money to cover all that kinds of expenses.
Under the current regulations set by the HCM City People's Committee, state owned school students pay VND60,000-150,000 a month depending on the education levels and areas (inner or suburb districts).
State owned school students bear the low tuitions because the State pays for the material facilities and teachers. The amounts of money allocated to schools every year depend on the numbers of students, VND9.136 million a year for every nursery school student, VND5.965 million for every kindergarten student, VND4.026 million for primary school student and VND4.071 million for secondary school student.
Meanwhile, private school students in HCM City have to pay much higher. The minimum tuitions declared by private schools are VND2 million a month.
The Pacific Asia people founded School in district 1, for example, collects VND2.52 million a month from every student. Van Lang School in district 5 collects VND2.4 million, Phu Lam VND2 million, while Sao Viet in district 7 VND8 million.
The tuitions set by private nursery schools are between VND3-10 million a month.
Mai Chi