After two years of playing football for V. Ninh Binh Club in North Vietnam, attacker Viet Thang suddenly liquidated the contract, went to South Vietnam and worked for B.Binh Duong Club with a salary of VND 9 billion.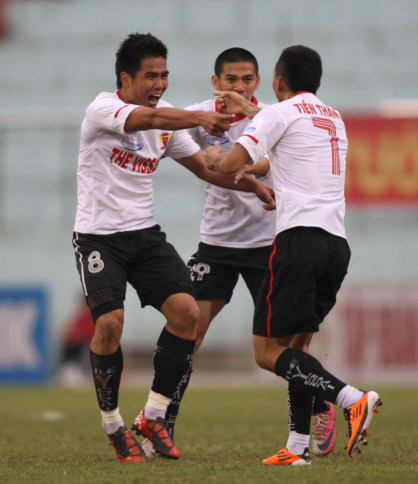 Viet Thang is one of the players signing the reputed contracts 2 years ago when this attacker was transferred to Long An Football Club to V. Ninh Binh with a transfer value of VND 8 billion, a record of the player transfer market at that time.
Although Viet Thang is not an attacker to contribute the most goals to V. Ninh Binh (a total of 12 goals), he plays an important role by "humming-bird" capacity, based on physical health.
This way of playing made Viet Thang listed in the National Football Team. However, to prepare the away team vs Qatar in the qualifying round of World Cup 2014, Viet Thang had trauma in the ankle and treatment. Since that, he was named in the initial football team. To treat such trauma, Viet Thang requested the Club to go to HCMC for a month. It may be said that this was the time that Binh Duong contacted this attacker 2 parties reached an agreement to work for Binh Duong Team in next year's football season.
The reason for this, besides hush money and handsomely salary from B. Binh Duong (VND 9 billion and VND 50 million/ month) and his being near his family, Viet Thang wanted to work in a new and suitable environment to his style. Viet Thang said that B. Binh Duong was a large and ambitious club and he would compete with other attackers but he believed in his capacity. He felt suitable in a football team of spectacular attack. For Ninh Binh Club, he directly talked with the leaders and they made difficulties upon he liquidated the contract prior to 1 year. He thought that it was normal for professional football.
With contract liquidation prior to 1 year, Viet Thang must compensate Ninh Binh for VND 2.5 billion. Thus, apart from brokerage expenses, Viet Thang pocketed about VND 6 billion after signing a 3-year contract with B. Binh Duong.
Viet Thang was the first "bomb" of player transfer in the football season 2012. This was not the only transaction of "Chelsea Viet Nam" when this football team had a great ambition in next football season. His working for Binh Duong with an amount of VND 9 billion signed a hot transfer in the football season 2012, including Cong Vinh, Dinh Tung …
Vnexpress.net